About a bazillion years ago I played Liza in Seven Brides for Seven Brothers at a little theater in West Yellowstone, Montana. My groom, Dan, was played by a dear friend who had spent a few years in Louisiana and LOVED Red Beans in Rice. He loved it so much, in fact, that every Thursday was RB&R Thursday for him. And by the time we were standing in the wings that night waiting for the lights to come up on our tiny summer stock theater stage, everyone behind him also knew it was RB&R Thursday. Audiences wondered why the show opened with a cast full of green-faced young actors. (Did I mention the theater was small? And the wings were a tiny, enclosed tunnel-like space with very little room for actual oxygen? And when someone had spent the day eating red beans and rice, that oxygen was blasted out of existence in very short order by the gaseosity of said adorable young actor who was a good stage kisser but should probably have laid off the red beans and rice? Did I?) (Just so you know, we had a chat. The boy was prevailed upon to refrain from RB&R Thursdays for the duration of the summer. Made stage-kissing him much nicer.)
Well, let's just say that I became so familiar with the, er, bouquet of Red Beans and Rice that I finally decided I wanted to learn how to make it. So I searched the internet and found a nice simple hearty recipe. After a little tweaking to suit my tastes, it turned into one of my family's favorites. Or will as soon as I make some more.
It should be noted that the afore-mentioned musically odiforous side effects have not as yet been noticed in our household as a result of partaking of this dish.
Ingredients:
1 roasted red bell pepper (or fresh), diced (I love the bottled roasted red peppers, although they are expensive. If I were a truly devoted mother/cook I would roast the peppers myself over an open flame and then toss them in a brown paper bag to steam and then peel and chop them. But I'm not.) (Of course I didn't bother with either one of these for this recipe. I just used fresh peppers. Probably you could too.)
1 medium onion, chopped (Have you seen the movie "The Help"? Aiblileen says you can stave off weepy eyes when chopping onions by clenching a match between your teeth. Preferably unlit. I tried this. I think it sort of staved off part of the weep-factor. I do. I think it did. You should try it.)
6 green onions, thinly sliced (Or you could just add a little more regular onion. Seriously. It's not like you can tell the difference once they're cooked.)
2 garlic cloves, minced
1 3/4 cups water
1 (15 ounce) can light red kidney beans, drained and rinsed
1 (16 ounce can dark red kidney beans, drained and rinsed (Hmmm. Who knew there were light and dark kidney beans? You will notice a certain uniformity in the color of my beans in the photos below. Tasted fine.)
1 large can green chillies, chopped
1/2 tsp cumin
1/2 tsp dried oregano
1/2 tsp dried thyme
1/4 tsp crushed red pepper flakes
1/4 tsp ground black pepper
1/4 tsp salt
1/4 pound fully cooked smoked turkey sausage, sliced – or smoked turkey, cubed (I used smoked turkey. It's milder. Yum.)
4 cups hot cooked rice
Method:
– In large skillet that has been coated with nonstick cooking spray, sauté red pepper, celery, onions, and garlic until tender.
– Add water, beans, oregano, thyme, red pepper flakes, and pepper. Bring to boil; reduce heat and simmer, uncovered, for 10 minutes, stirring occasionally.
– Remove about 1-1/2 cups of bean mixture and mash with a fork. Return to skillet. Add smoked turkey or turkey sausage; bring to boil. Boil for 5 minuets or until bean mixture reaches desired thickness. Serve over rice.
Les Images Photographique:
(I was going to write all the photo descriptions in either Creole or Cajun in honor of this dish's origins, but I realized I didn't know how. So, we'll just settle for that bit of French there above. I have no idea if it's correct.)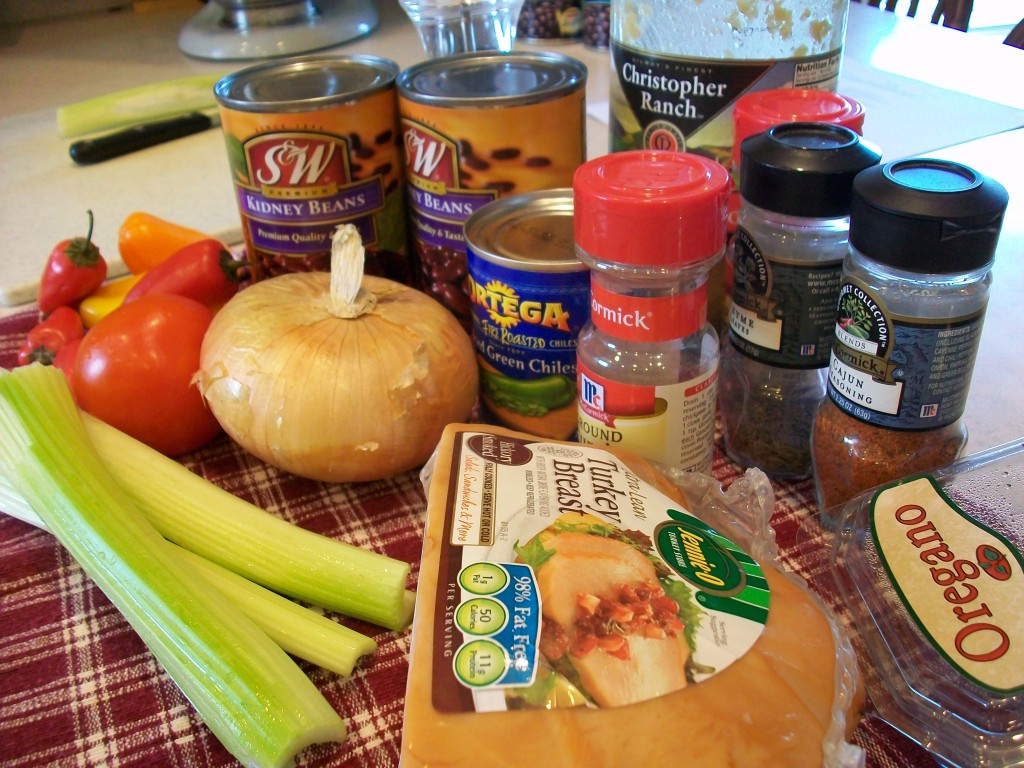 Beautiful Ingredients. That bottle labeled "Christopher Ranch" is full of pre-minced garlic. The boon of gods and chefs.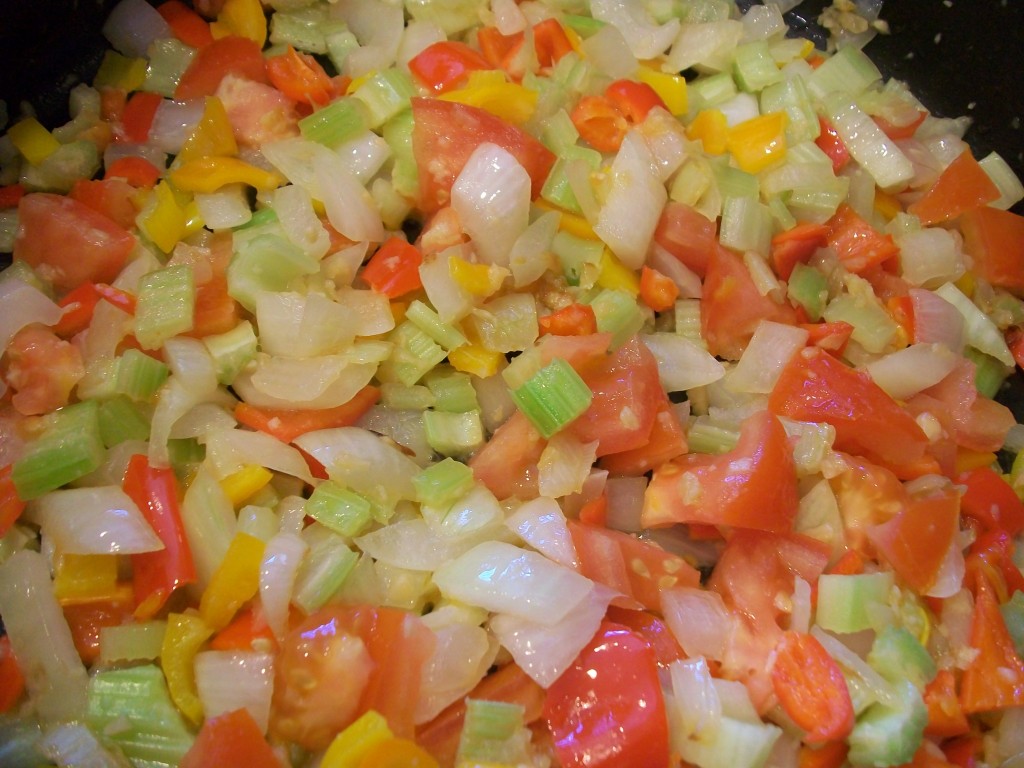 I love the prettiness of multicolored diced veggies frying away in a pan. And the fresh smell is to. die. for. You're welcome to frame this and hang it on your wall if you like.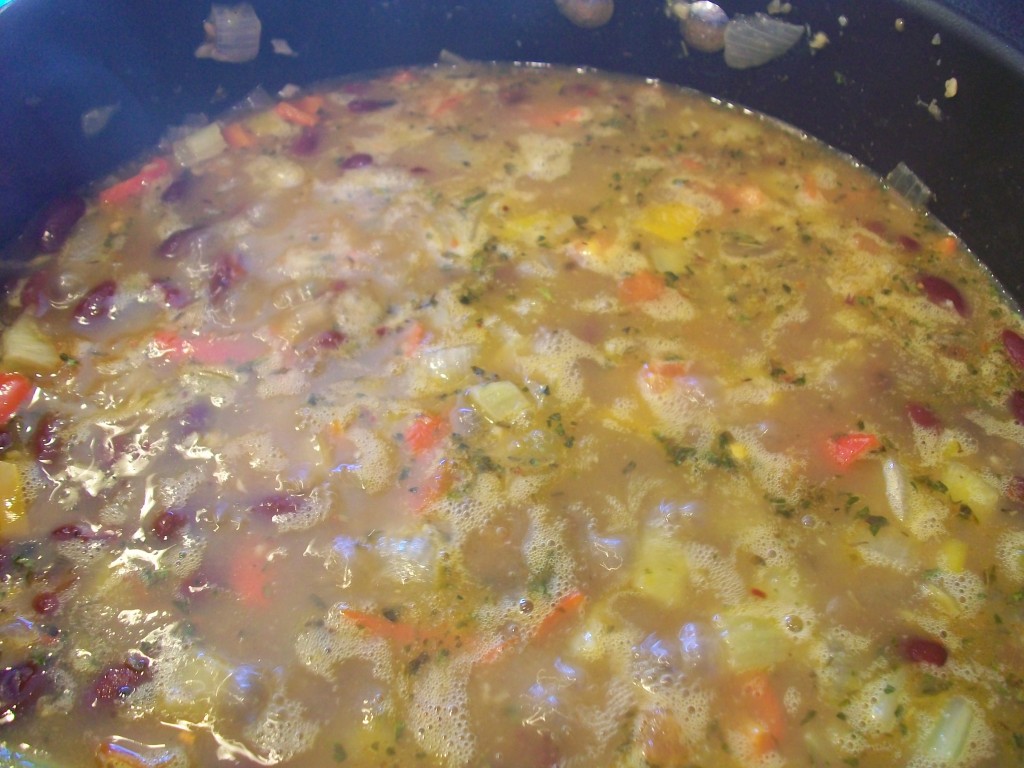 Beans and veggies and broth simmering and imparting into my house a lovely bouquet that has nothing to do with gaseosity.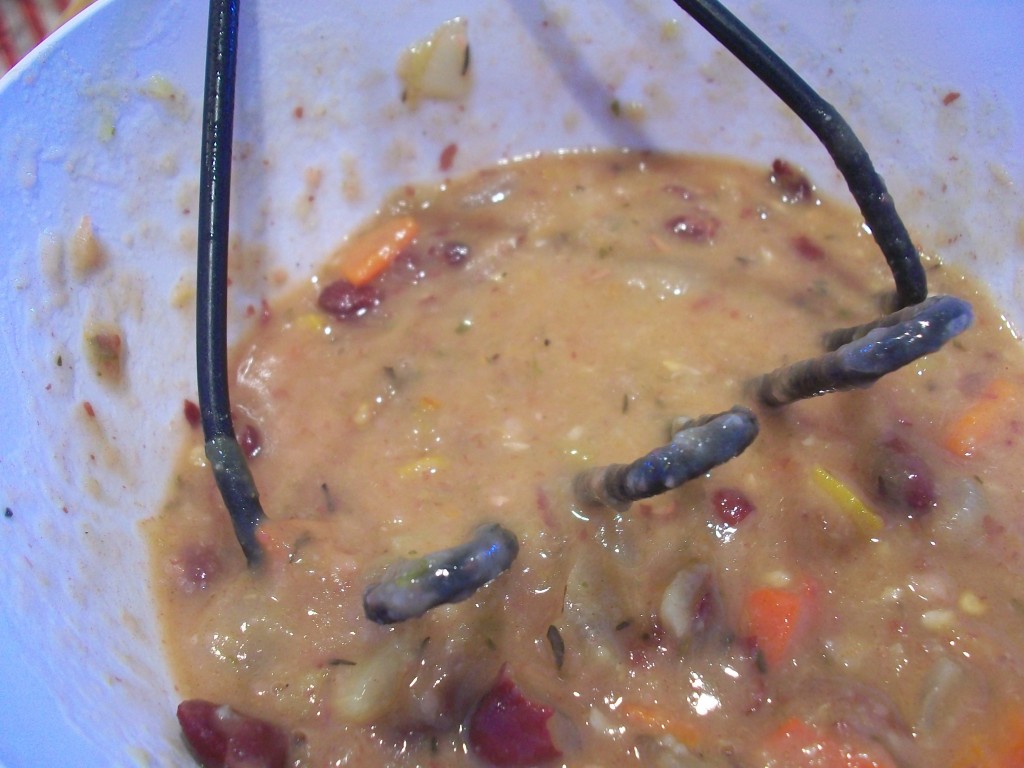 Smashing the beans. What is it about smashing things that is so fun? Smash, smash, smash.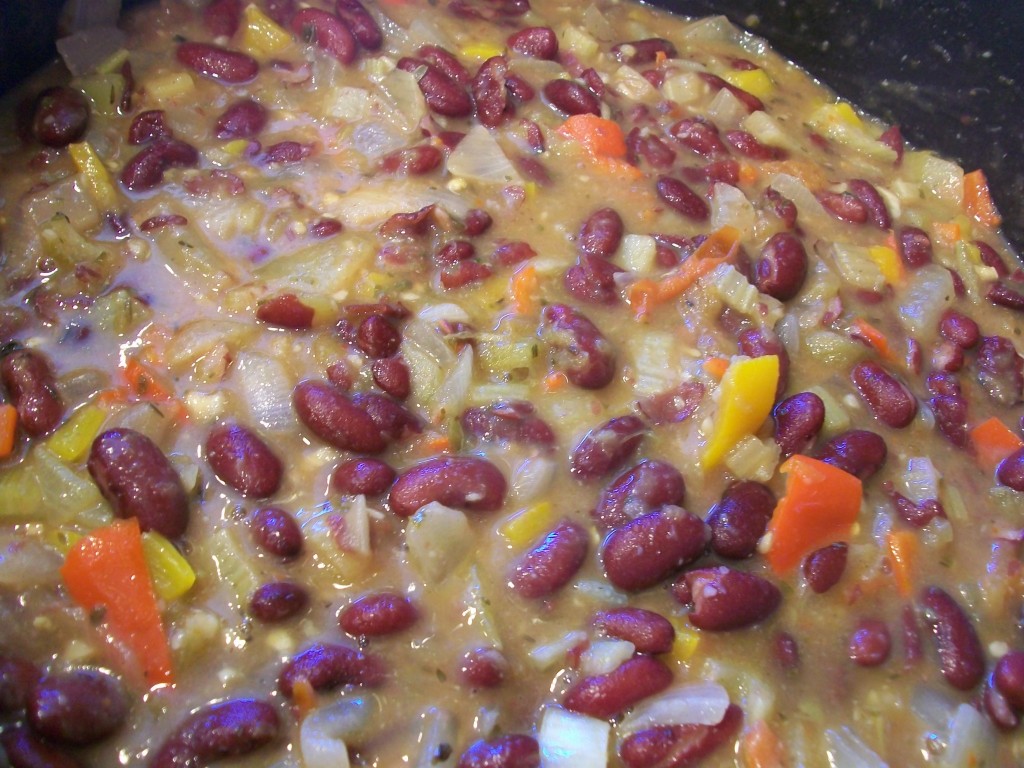 Reintroducing the manually masticated beans into the soup, along with the turkey. I know you can't see the turkey, but it's in there. Or it will be soon.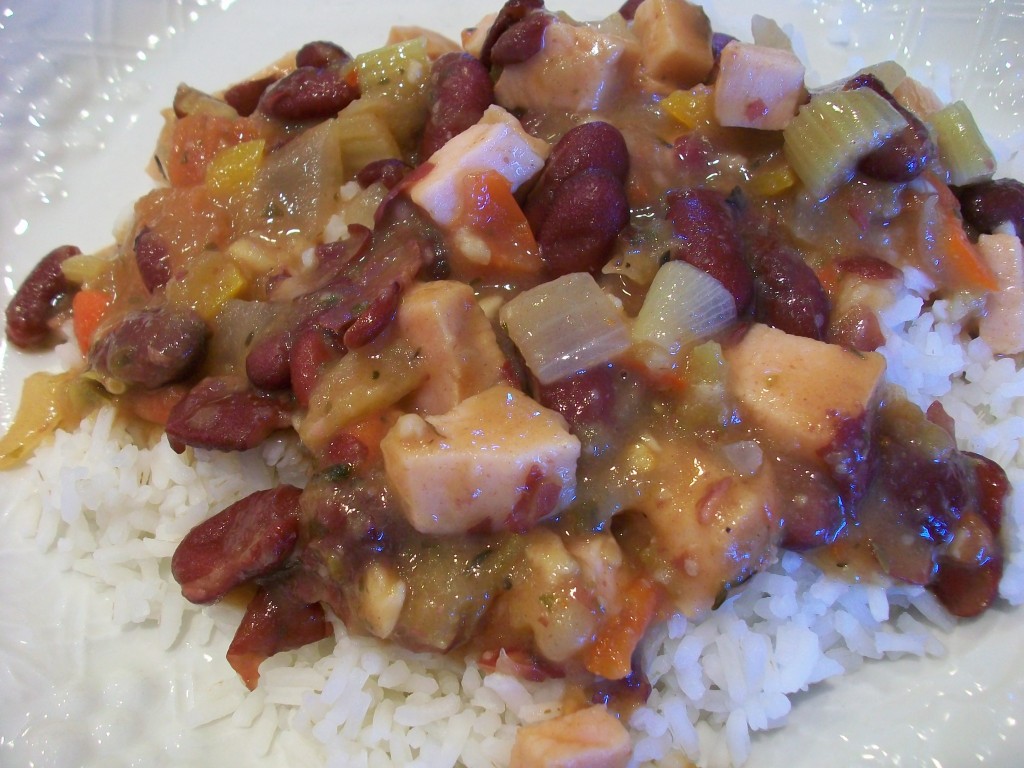 Et voilá, mes petites amis! De delicious liddle chu-chut soup. Look at all dat good stuff een dair! No gree-gree. Just good stuff trowed ova rice. Dats de yum!
(Authentic Cajun Speak brought to you by an online cajun dictionary. Mistakes are the result of the author having no idea what she's doing.)