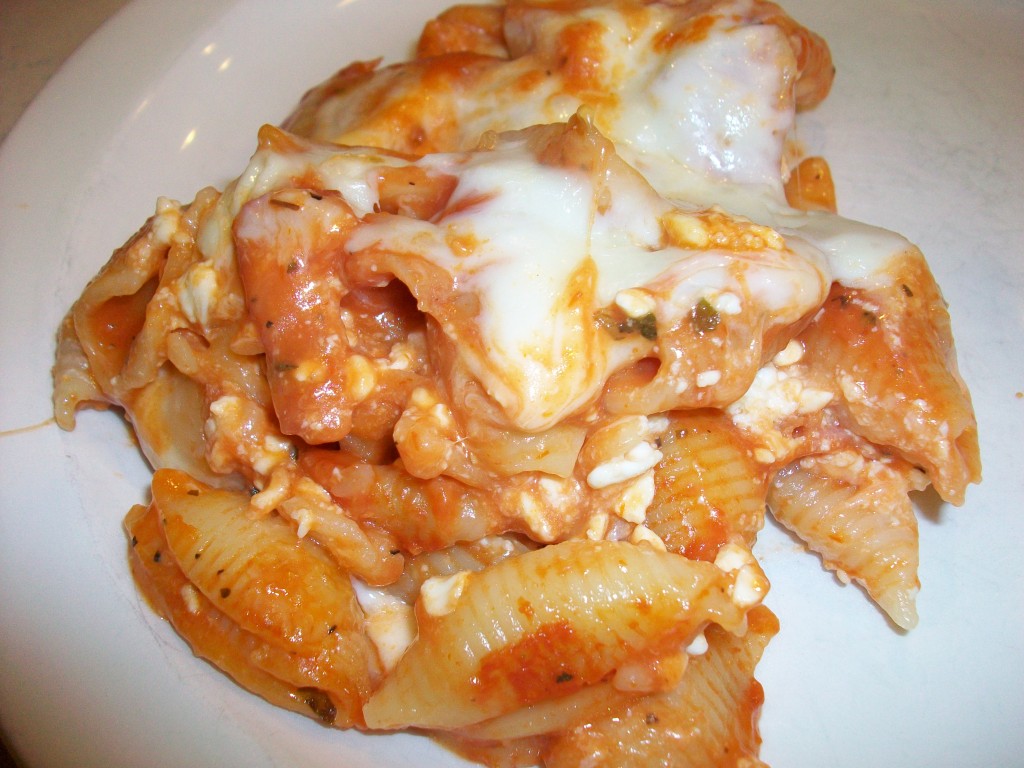 It's snowing outside. And I am totally in the mood for a homey granny meal. Something that warms my cockles as well as my guts. Something that brings back happy childhood memories. I'll have to go find me some. NO, NO, I'm KIDDING! I have lots of happy childhood memories. Many of which don't involve me falling off, into, out of, or onto something and getting a black eye. And some of which involve some sort of concoction my mother used to make involving pasta shells and tomato soup and cheese.
I wanted it again.
So I made up a lasagna using those same basic ingredients. And voilá! The family hearted it very much. I'm sure it's all dietetic and healthy. Okay, it's not. But there's protein in that thar cheese, and that's good for you, right? Who can deny the value of a great homey meal over worries about arteries slamming shut? Exactly.
So here she is: My version of my mom's version of some sort of pasta-tomato-soup-thing:
Ingredients:
16 ounces medium pasta shells, cooked and drained
1 family sized can tomato soup (Big)
Milk
1 tsp dried basil
1/2 tsp dried oregano
(You could probably add some garlic powder too, if you want. A few lovely shakes.)
Several grinds of fresh pepper (Fresh black pepper is the bomb dot com. It's an epicurean delight. It's Angelina Jolie's right leg.)
2 cups cottage cheese or ricotta cheese (Or more. Your preference. And I'd like to recommend cottage cheese over ricotta, even though this is my recipe and I can just TELL you to use cottage cheese and not even mention the ricotta. But it seems that all Italian recipes call for ricotta, and while I can't abide the wallpaper-paste-y stuff, I've gotta be legit. So it's on here. But don't use it.)
1 cup shredded monterey jack cheese
1-2 cups shredded mozzarella cheese (If you're worried about fat calories you can remove a few tablespoons of the cheese.)
1/4 cup grated parmesan cheese
Method:
-Preheat oven to 375F. (This is the hardest part of the recipe. Steady. Steaaaaadyyyy.)
-Cook noodles according to package directions. Drain.
-In a large bowl mix tomato soup with half a tomato soup-can of milk. Add the basil, oregano, and pepper (and garlic powder, if you are using it). Mix in the drained pasta shells–add as many of the shells as you like, depending on how saucy you want your lasagna.
-In a separate bowl, mix cottage cheese with monterey jack cheese.
-In a separate bowl, mix mozzarella and parmesan cheeses.
-In a 9 x 13 -inch pan, spread half of the tomato/shell mixture. Top with the cottage cheese mixture. Repeat the shell layer, and top with the mozzarella/parmesan cheese mixture.
-Bake at 375 degrees Fahrenheit for 40 minutes, or until bubbly and melty and cheese is starting to brown. Maybe. You can probably take it out before it browns. Let stand for 10 minutes before serving. You don't have to stand, though. You can sit.
OOOH! OOOH! I just thought of something! Little bits of cooked bacon would be seriously delish sprinkled over the top of this. Or mixed in. Yum. You can use that suggestion if you want. Go ahead.
Annnnnd Camera! Action! Pictures! But not many! Because I wanted this so bad that I forgot to take pictures until the very end! But here's what I Got!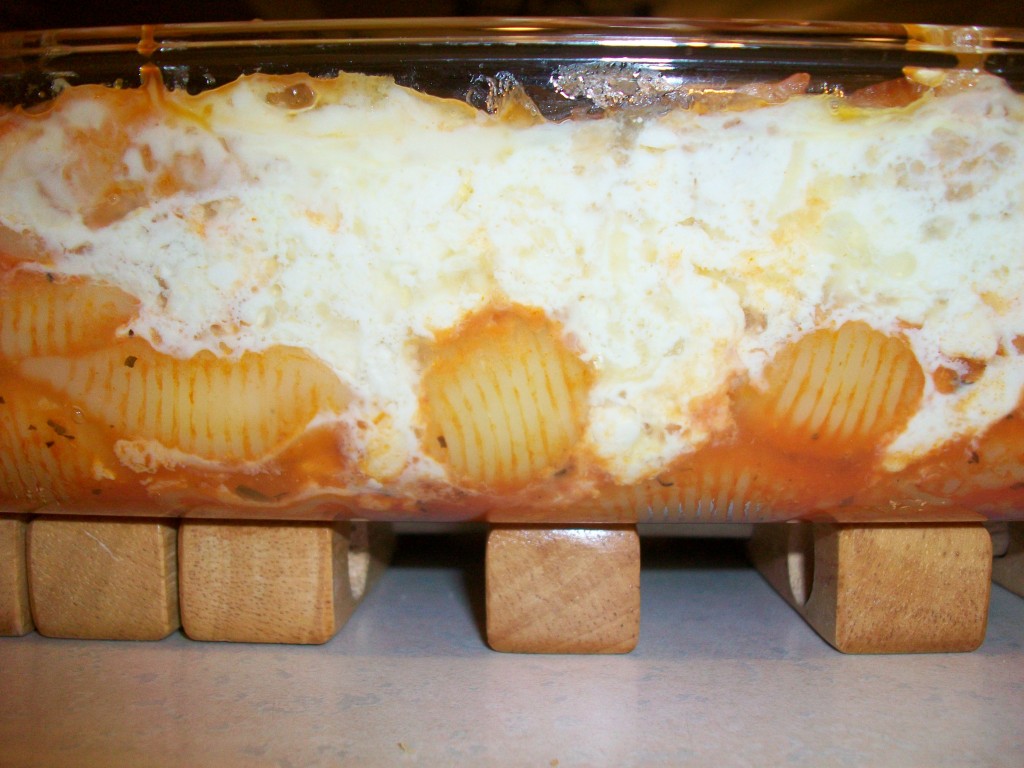 Side View. THERE IS NO FAT IN THERE. I MEAN IT. ALSO NO GLUTEN. ALL RIGHT I LIED. THERE'S ALL OF THAT IN THERE. ENJOY.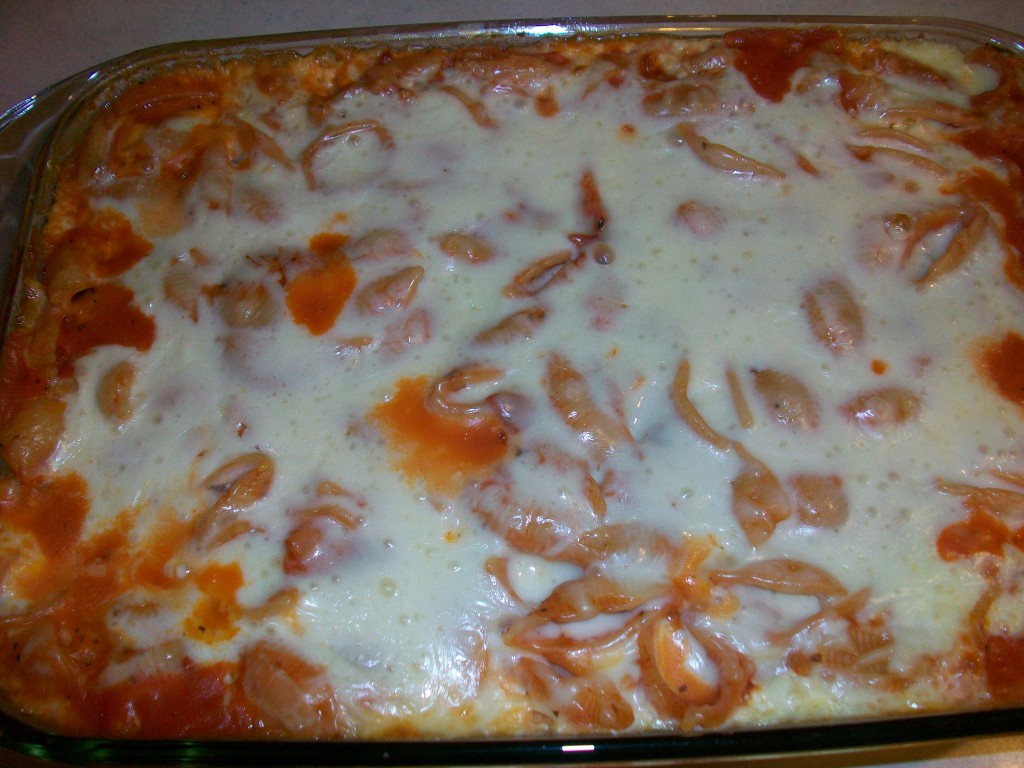 Top view. I didn't even let it brown. I just wanted it NOW.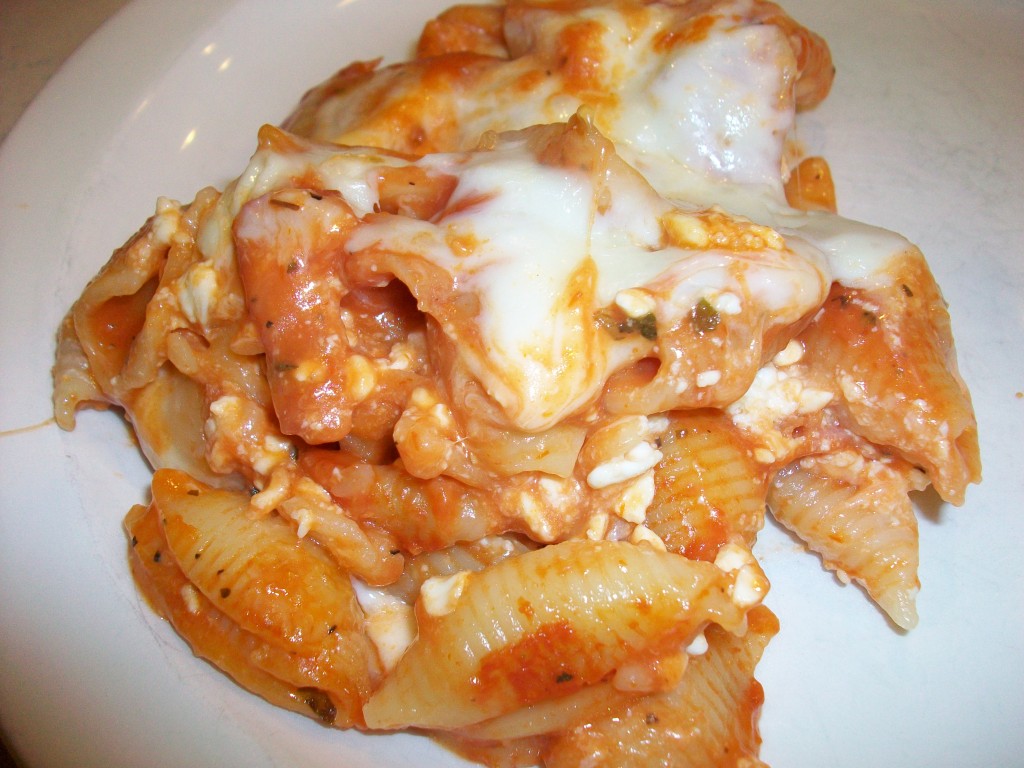 Tummy view. Yep. It's that good.
Right. Off you go. Make you some. Share it with people. Pack it in lunches for a week. You can also freeze it in little portions to thaw and warm and eat when you're watching Pride and Prejudice the next time. The one with Collin Firth. But then switch to the one with Keira Knightly for the ending because it is much more romantic. And pasta shell-y.