Today's recipe is perfect. It's easy, delicious, and uses up all those extra tomatoes you had to pull off the vines last night before the hard freeze. AND, you can make it in big batches and freeze it in little containers for later. It's just as delish thawed and heated up. And SO good with crusty bread.
I love this so much that I don't even have anything silly or snarky or weird to say. Just . . . on to the recipe!
(I know. Take a moment. Sit down. Reorient yourself. You are on the right blog.)
Ingredients:
2 cups water
5 pounds fresh tomatoes, cored and cut in quarters
1/3 cup sugar
2-3 tsp salt
1 tsp allspice
1 tsp dried basil
1 tsp dried sage
2 large onions
1 small bunch parsley
1-2 stalks celery
1/2 red or yellow bell pepper
5 strips bacon, cooked until crisp and broken into pieces
2 Tbsp flour
Method:
-Place all ingredients except bacon and flour in stockpot or deep saucepan. Bring to a boil. Simmer very low for 1 1/2 hours, partially covered.
-When done, put soup in blender and purée in batches.
-Pour back into pot and add bacon and flour. Stir to incorporate the flour, and bring to a boil again.
-Tada!
Variations: Add 2-3 cloves sliced garlic with veggies, more celery, 1/2 tsp pepper, 2-3 Tbsp pesto, cannelli beans and pasta. OR reduce sage to 1/2 tsp. Add sliced little smokies or sliced and fried summer sausage instead of bacon, along with cut green beans. This soup can take almost anything.
Pictures: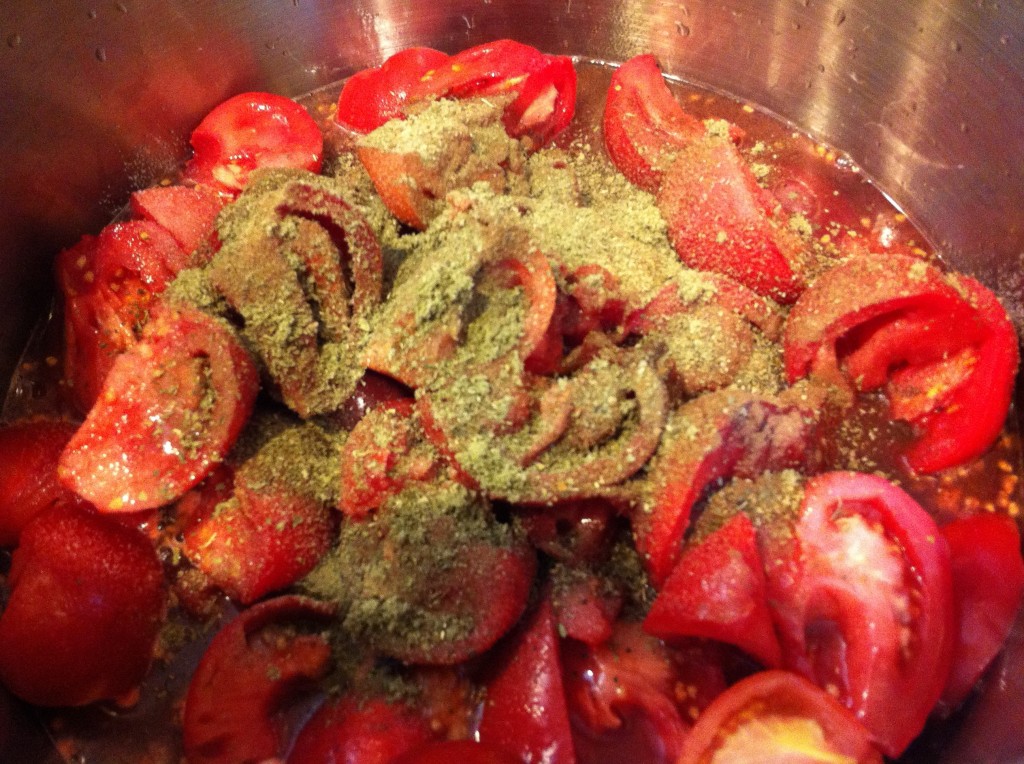 Tomatoes from my mother-in-law's garden before the first freeze of the season, along with the herbs and spices. Ooh lala!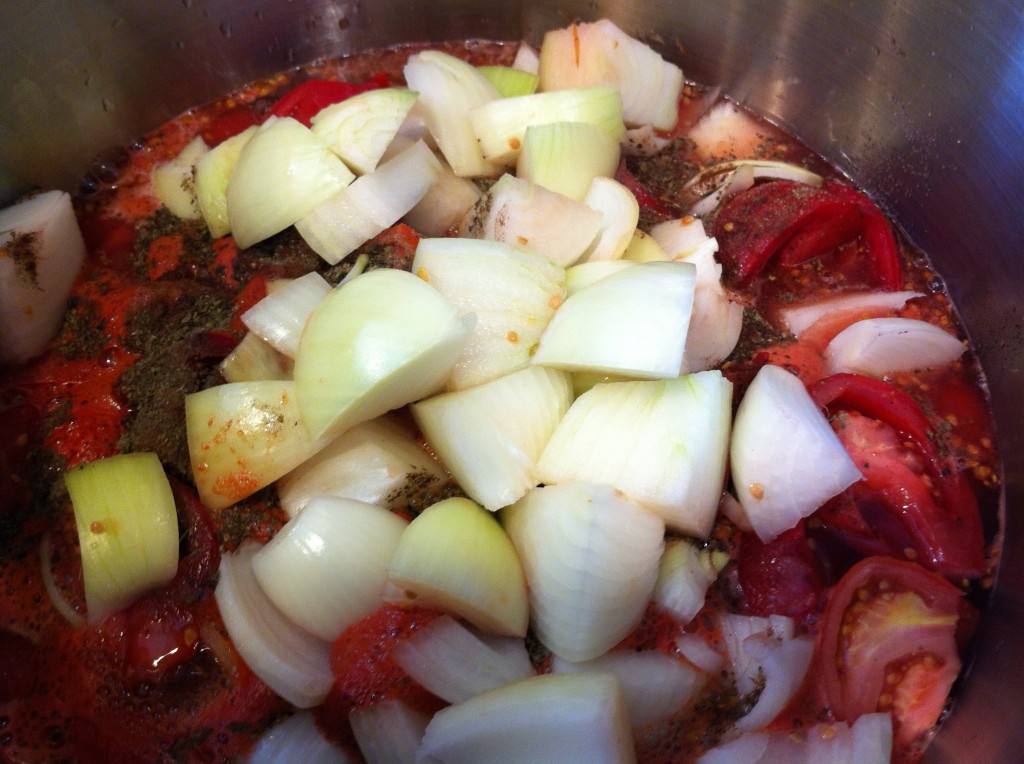 Onions.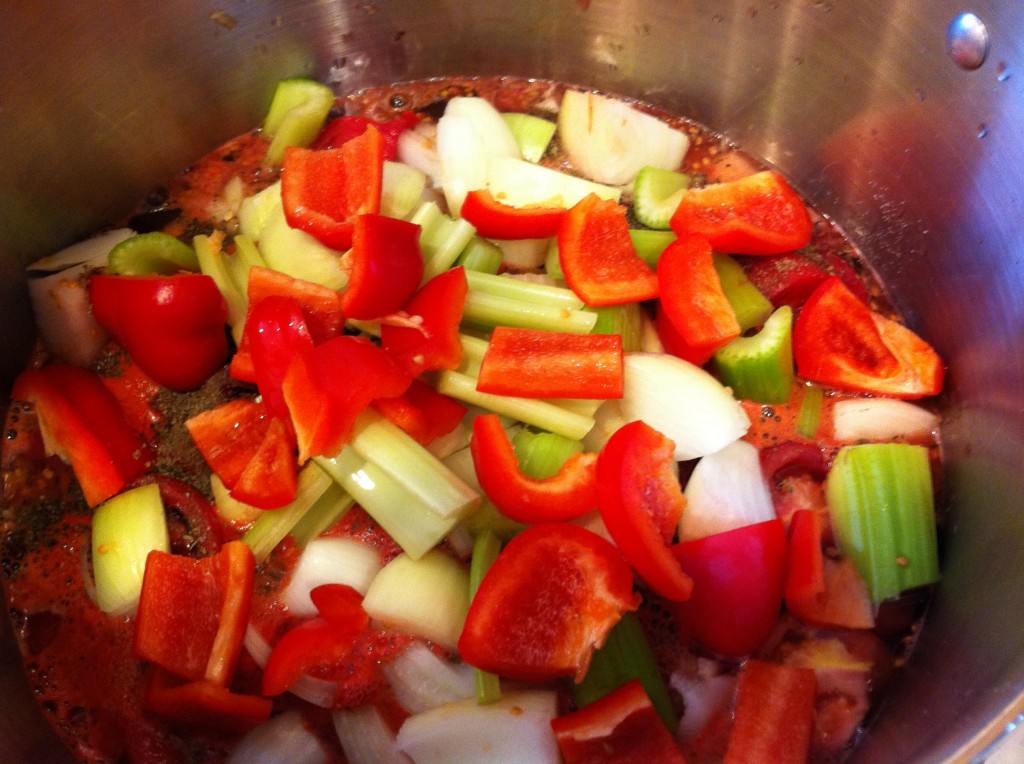 Celery and peppers. Hey. This is an easy soup. Not a lot of photo opportunities here. I hafta work with what I got, you know?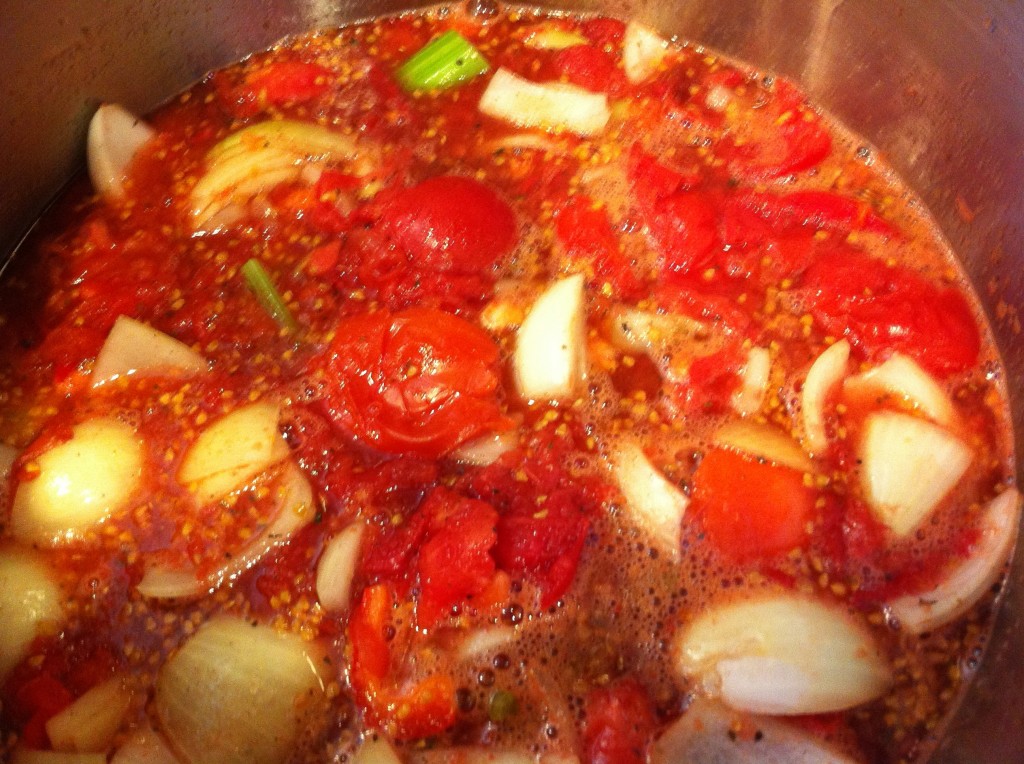 Everything together simmering for 1.5 hours. Smells mighty mighty fine and a lot like heaven. If heaven were made of tomatoes.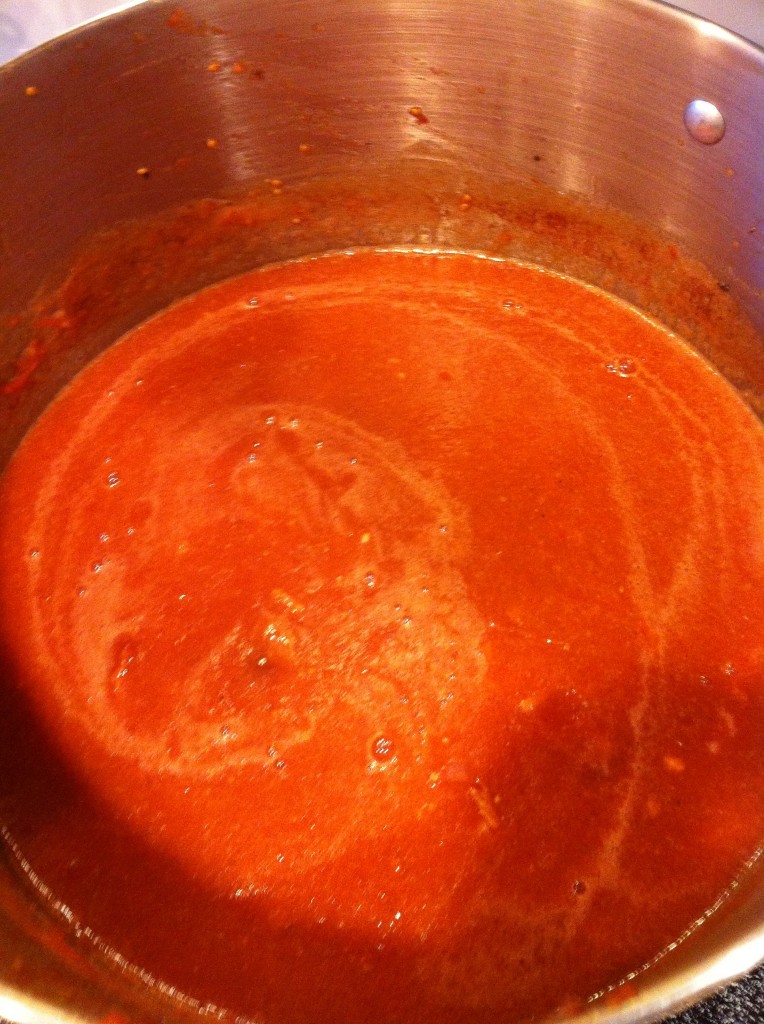 Puréed soup. Sorry. No action shots today. I was in a hurry. Had mouths to feed, shoes to buy. Er.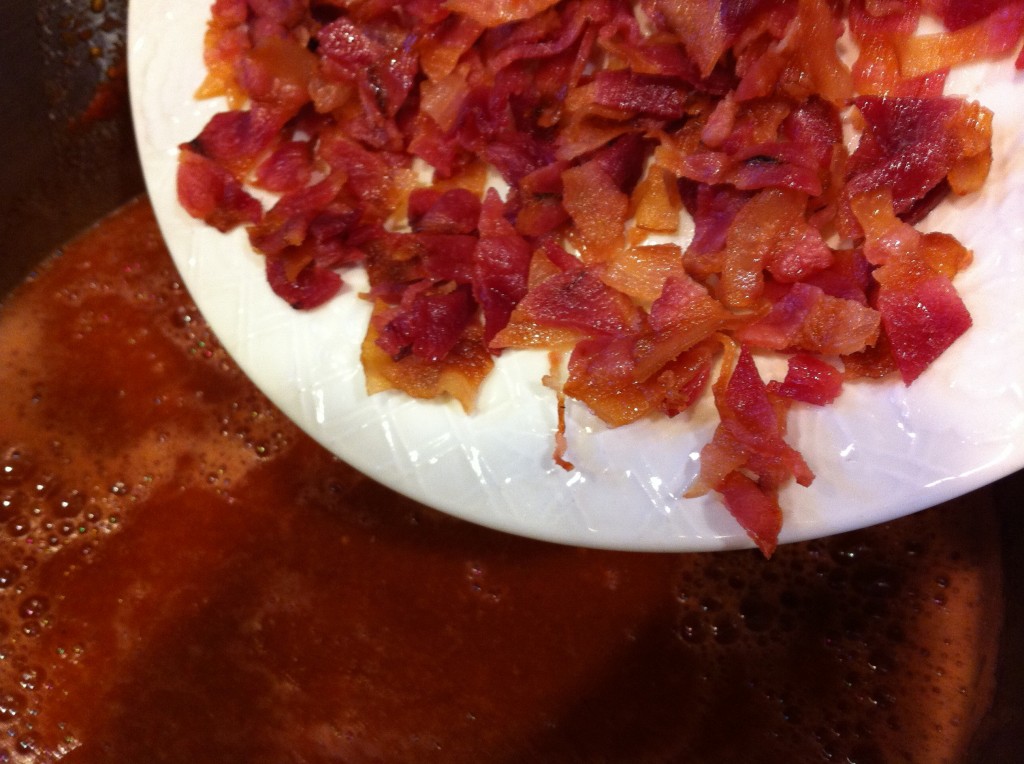 Adding the bacon (and flour, but I'd already stirred that in.) And can I have a "thank you for pigs," my children? THANK YOU FOR PIGS!
Only problem with this soup is, there isn't one. It's easy. Smells fine. Tastes out of this world. You will not be able to stop eating it. AND it's good for you! Voilá! What. Pigs are good for you. They're certainly good for themselves. Why wouldn't they be good for you?
I do hope you'll try it and love it! Happy day, peeps!