Well, summer is winding to a close and I've still got cherries on my counter. I heart cherries. Life is a bowl of cherries. Sometimes life is a chair of bowlies. It just depends.
If you've got extra cherries and fear they shall go bad before they can get eaten, then this is the recipe for you. It's also the recipe for you if you've got extra blueberries. And I suspect raspberries or blackberries could volunteer for coffee cake duty today if necessary. Probably anything, really. Except liver. There is no room at all in the human diet for liver. Cows should not have livers. It's wrong.
'kay then. Here is the recipe for a lovely, delicious, luscious cherry coffee cake, which I made with cherries and blueberries because that is what I had. And my family devoured it like voracious veloci-cherrycoffeecake-raptors. Even made me un-pan it before it had cooled, resulting in it cracking in two places. But this made no difference in the flavor. In fact, warm cracked coffee cake is the food of the gods.
So, join them on Mount Olympus. Here's the key:
Ingredients:
1 1/2 cups cherries, pitted and halved. Except use 2 cups. (I did some weird thing with a paperclip to remove the pits. It made me feel crafty and like a real woman. I don't think it was more effective than digging them out with my fingernail, though.) (Also, pitting and halving cherries takes, like, forever. Watch your favorite mini-series while you do it.)
2 Tbsp flour
2 cups flour (This is not a stutter. You need 2 Tbsp of flour, and THEN 2 cups of flour)
1 tsp salt
2 tsp baking powder
1 tsp ground cinnamon (Thank you, whoever thought of the Cassia tree)
2/3 cup vegetable oil (I use Canola. Makes me feel like there's no fat in this. We likes our precious delusions.)
2 eggs
1 cup sugar
1 tsp vanilla extract
1/2 tsp almond extract (This is critical. CRITICAL. Almond extract is heaven. Almond extract should be president of the United States.)
1 cup milk
Method:
— Preheat oven to 325 degrees F (165 degrees C). Grease and lightly flour a 10-inch tube pan. Place cherries (and whatever else you're adding, except liver) in a bowl and toss gently with 2 Tbsp flour. Set aside.
— Stir together the flour, salt, baking powder, and cinnamon in a medium bowl. Beat together the oil, eggs, sugar, vanilla and almond extracts, and milk until smooth, in a large mixing bowl.
— Stir in the flour mixture until smooth. Fold in the cherries. Pour batter into prepared pan.
— Bake in preheated oven until toothpick inserted into cake comes out clean, about 60 minutes. Cool in pan 10 minutes, then turn out onto a serving plate or wire rack. Or dig it right out of the pan. Whatever. Just eat it, my people. Manger, s'il vous plait. ("Manger" is French for "eat." It is pronounced "monjjjay," not "mainjure." It is not the cute little animal food-holder-thingie they put baby Jesus in. Just wanted to clear that up.)
Cherrific Photos: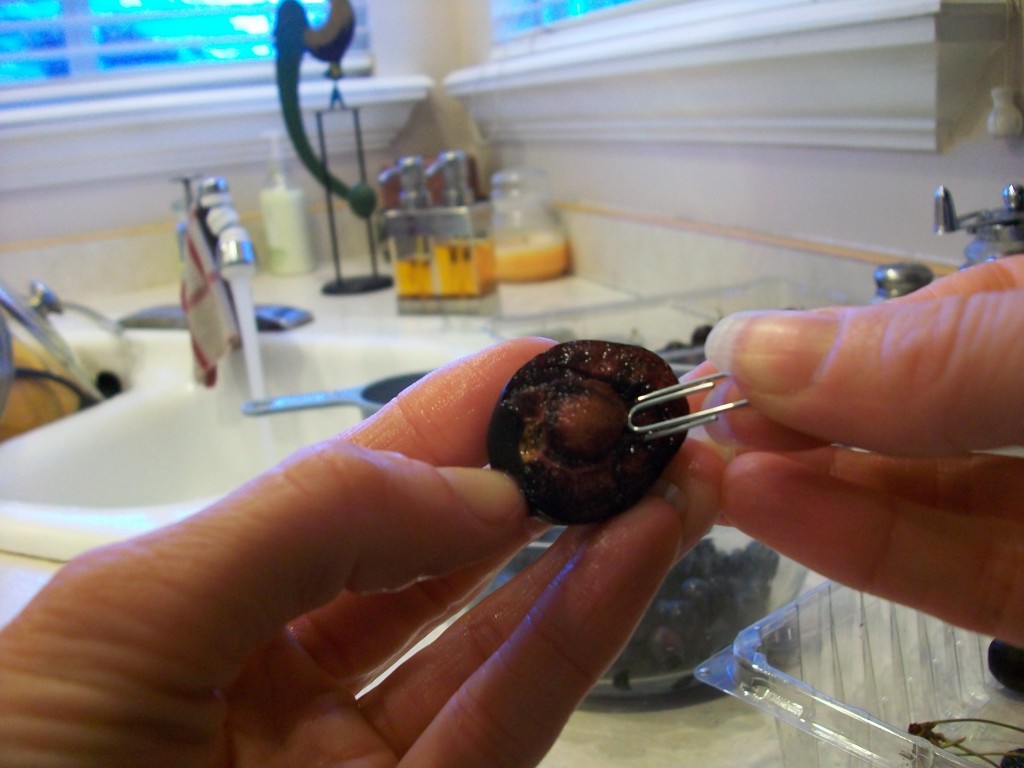 Check me out. Using a paperclip to pit a cherry. Ain't I the Clever Chloe? Cuts right around it like buttah. Slip that paperclip right off of your child's report on "What I Did Last Summer," give it a wash, and stab you some cherries. And, why yes, that is my water running wastefully into the sink in the background there. Good eyes. Nosey eyes, but good eyes. No idea what it was on for.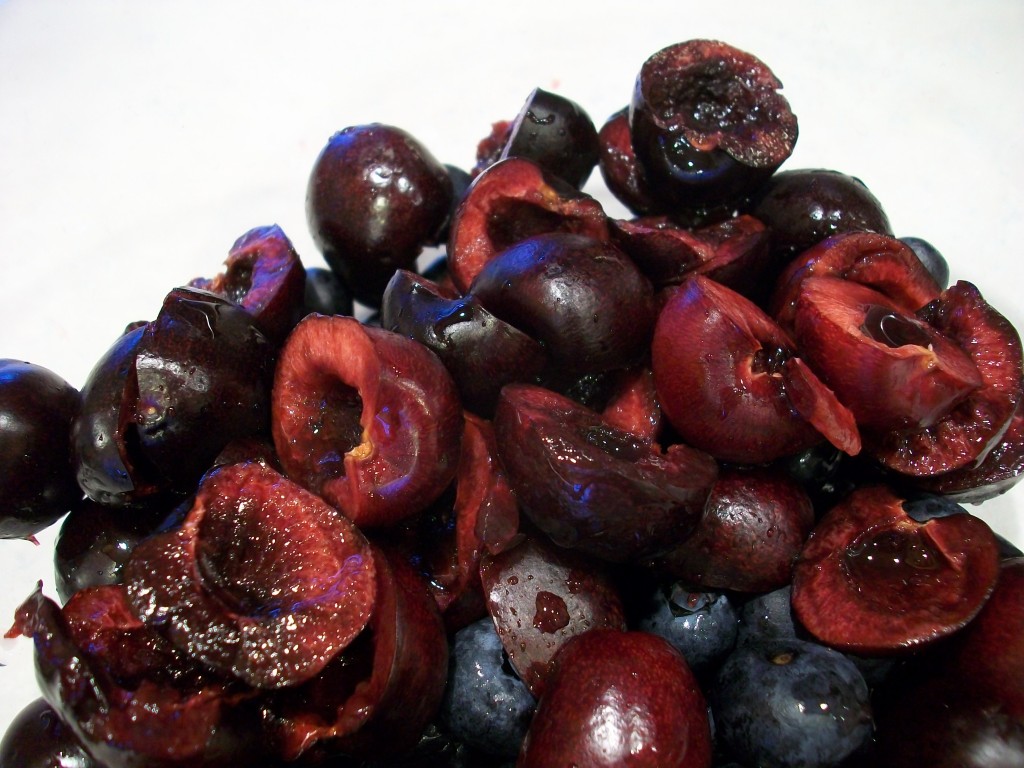 Cherries and blueberries all washed, sliced (where applicable) and pitted (also where applicable. I think trying to pit the blueberries would be akin to removing the BB's from a jar of nail polish before using it.) (Yes jars of nail polish do too have BB's in them! What do you think that clicking sound is when you shake them? They're in there to mix up the polish for you, because shaking violently isn't enough.)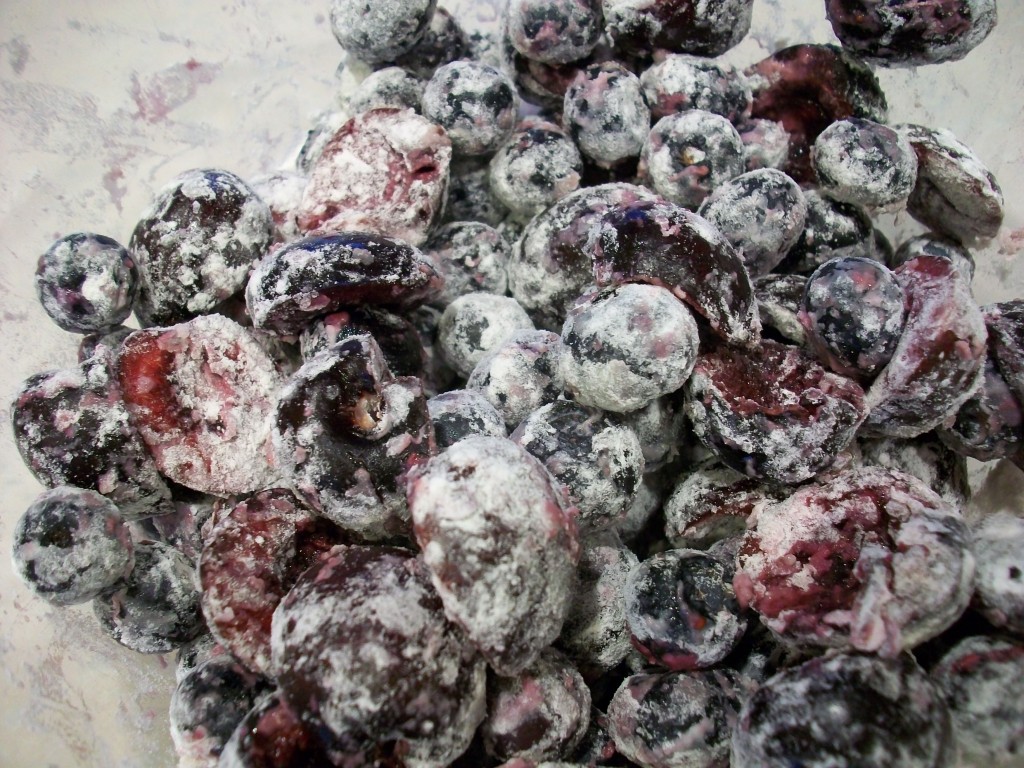 Floured Fruit. They look like they've been wintered on. Purty, purty.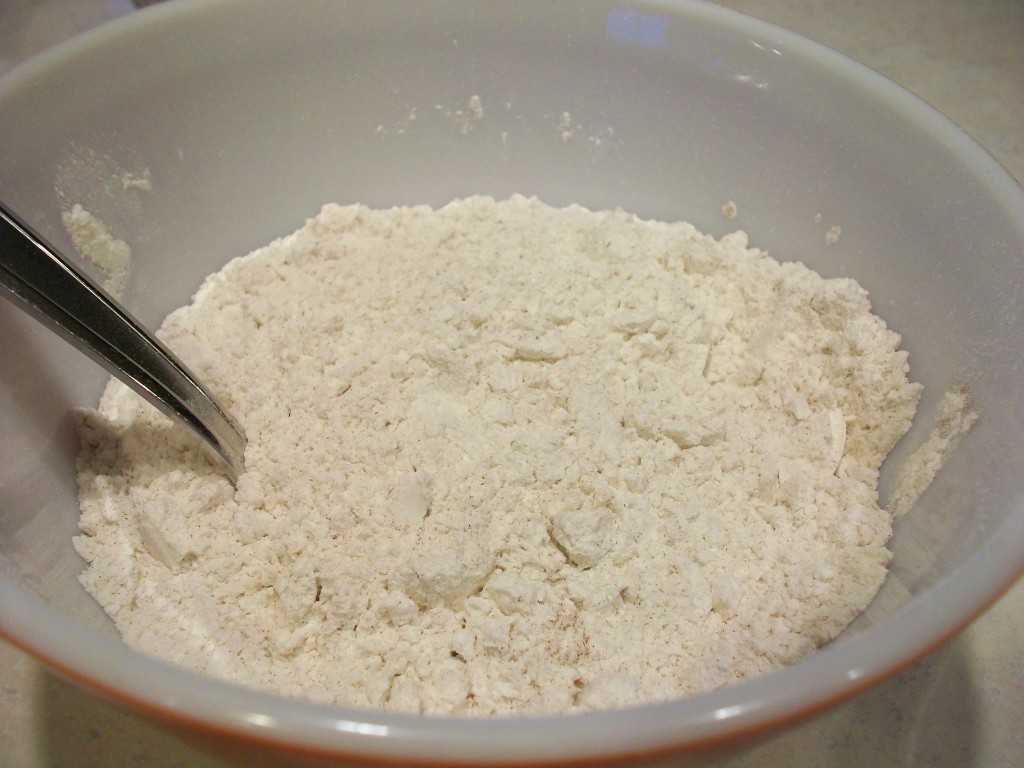 This is flour. Hiding in it is also salt, baking powder and cinnamon. Aren't we sneaky?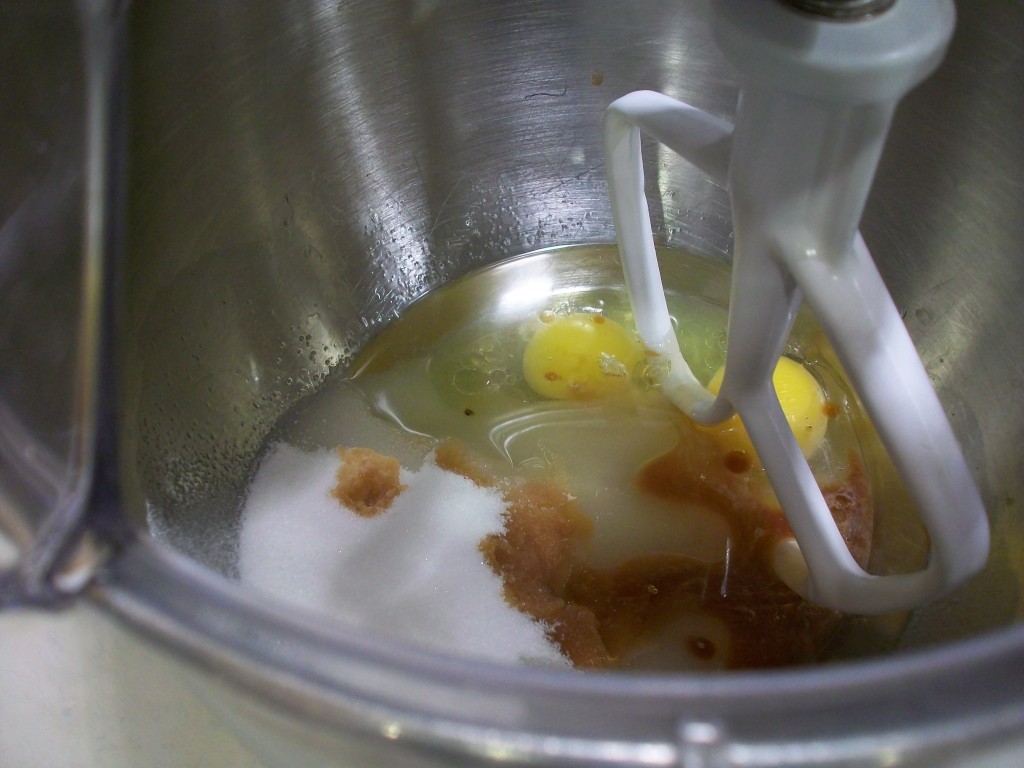 Oil, eggs, sugar, and extracts. REMEMBER THE ALMOND.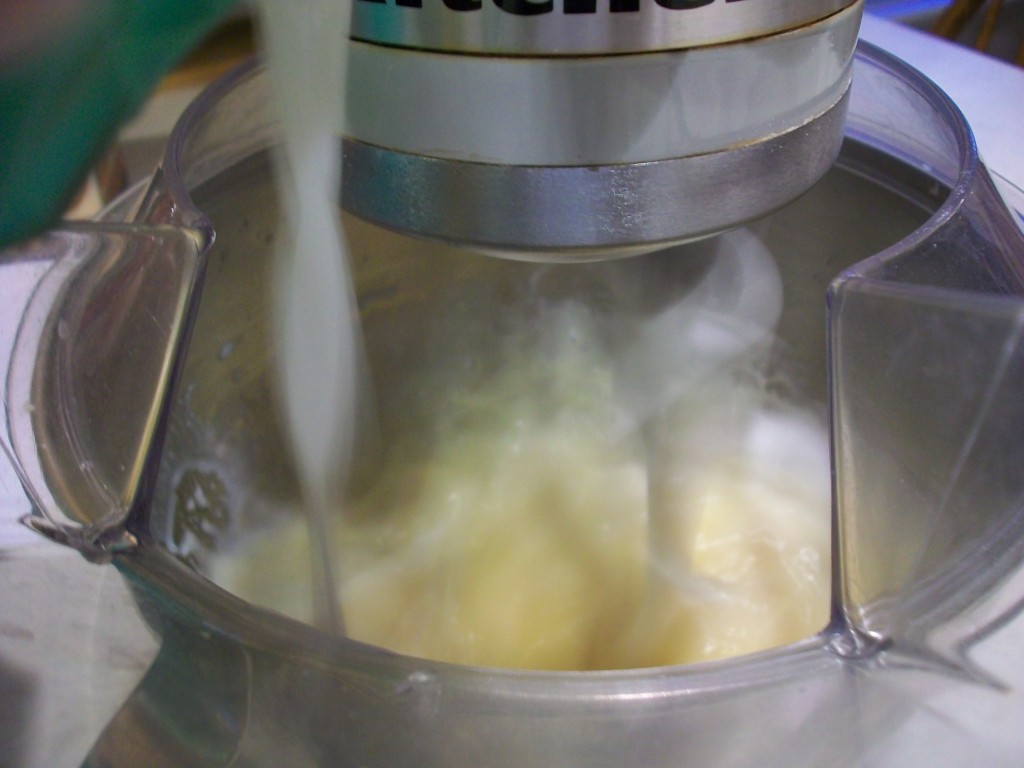 Action shot of me pouring the milk in because my son thought it would be cool, and in 9 years when he's in college majoring in Film and Media Arts this might be the shot that snags him the scholarship.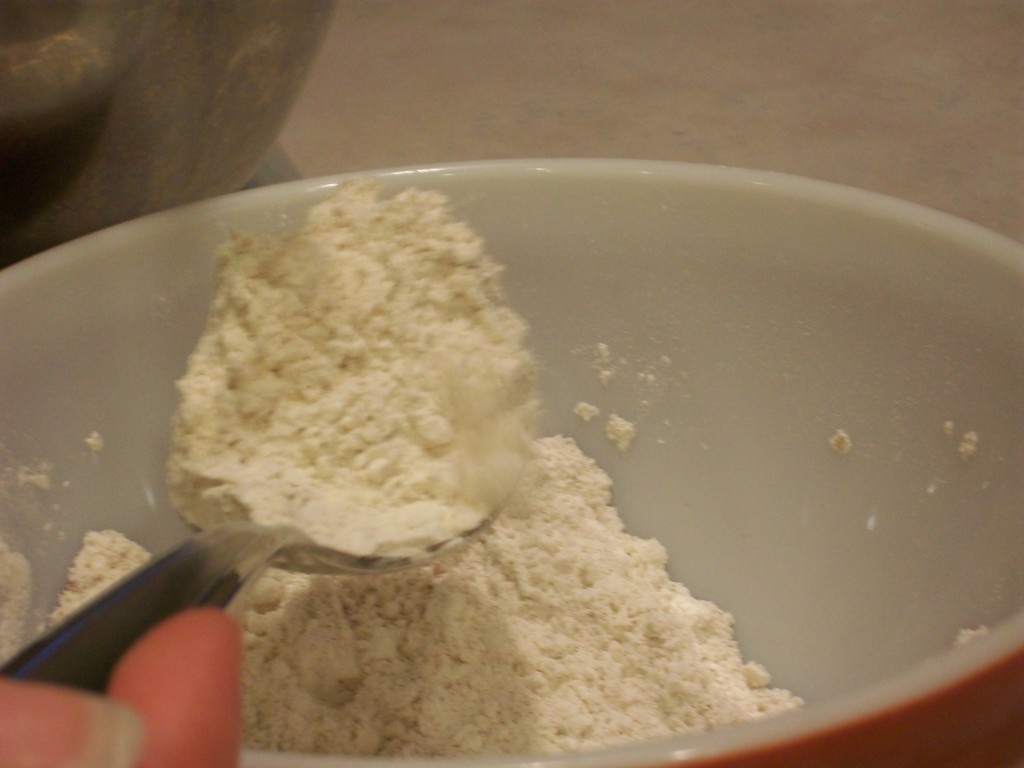 Am I getting anal retentive with these photos? I mean, do we need a picture of me spooning the dry ingredients out of the bowl? DO WE? I don't know. But here it is. Be gentle when spooning. I'm not saying anything else about that.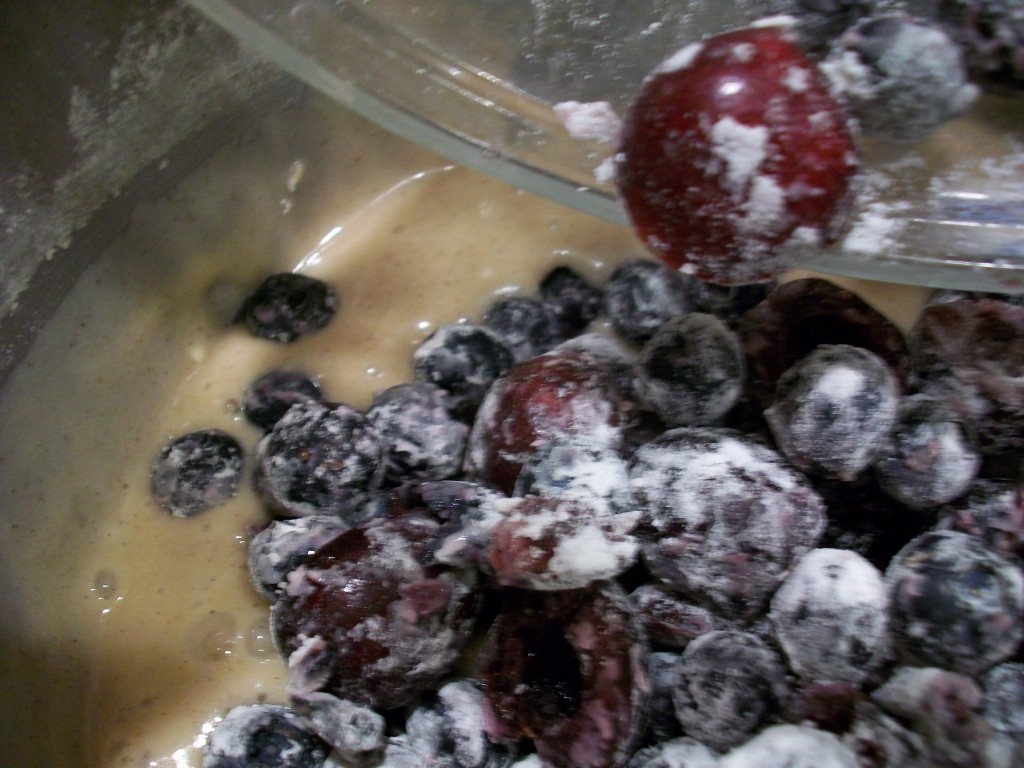 Blurry berries bumbling into the bowl. Note the alliteration. Cooking is nothing without alliteration.
Cake being gently shoved into the oven, which you have been preheating since dawn because you were going to make this for breakfast, but everyone had an emergency so you kept not quite getting to it, but you were going to in just a sec, so you left the oven on, and now it is 9:00 at night and you are just sliding the coffeecake in to cook, and YOU DON'T CARE HOW TIRED EVERYONE IS, THEY ARE GOING TO STAY UP AND EAT THIS, BECAUSE YOU LITERALLY SLAVED ALL DAY LONG ON IT.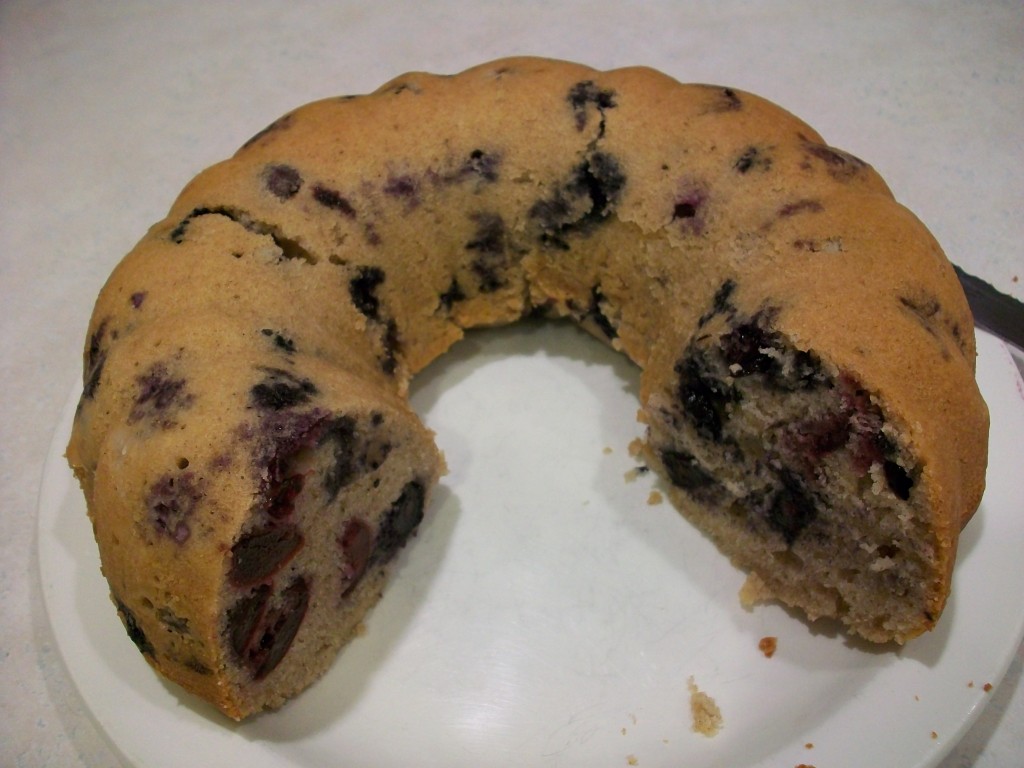 Ta-Da! Warm cracked coffee cake, because my people couldn't just let the thing cool in the pan. Had to eat it NOW. I don't know why. I don't harass them about these things. And let me just say that warm is the way to eat this baby. Yuuuuummmm. Some people advocate topping this with a glaze, but I think it is smashing as is.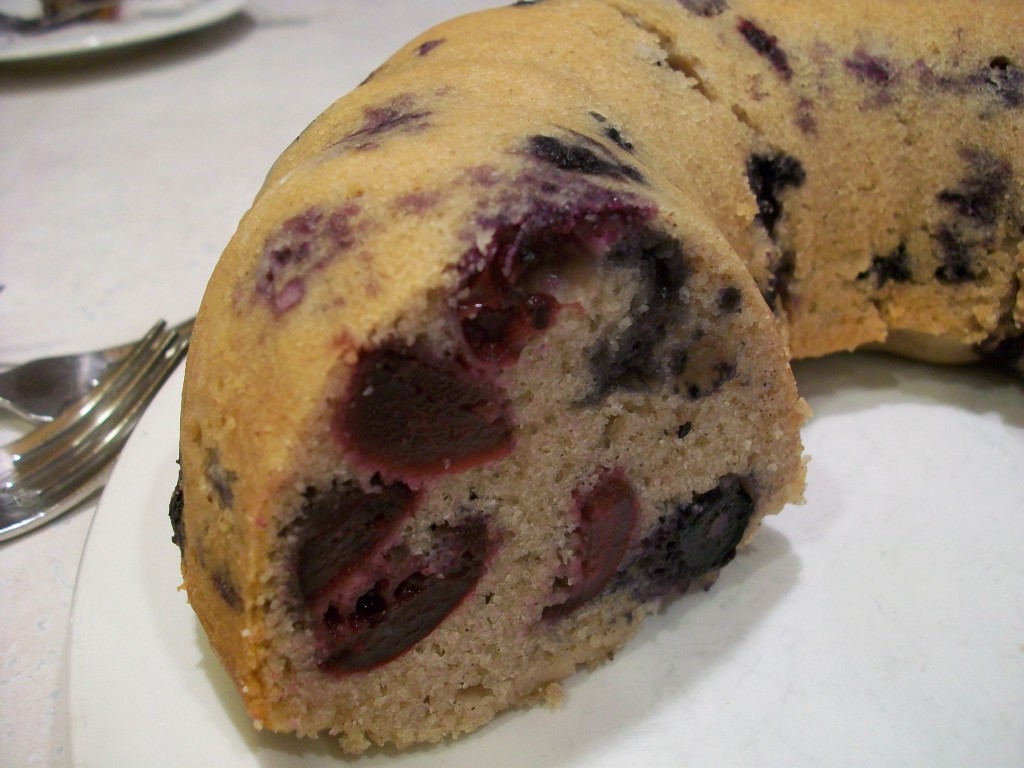 Berry shot. Oooolala. So very succulent and tender and warm and delicious and in need of being served in a cereal bowl with milk poured over it.
Now you know why Zeus eats this every morning for Breakfast. Like I said. Food of the Gods.