My sister calls this little soup an "Elixir." Doesn't that sound so much more edible and evocative than "Soup"? Chicken Tortilla Elixir. It brings love and prosperity to all who eat it. I know this to be true. For I have love. And I am working on the prosperity part. I could eat this soup every day of Summer. And Fall. And Winter. Spring would have to be Zuppa Fresca, which I'll post here someday. But Summer? For sure the Elixir of Chicken, er Love.
It's easy. But I can make it even easier. The recipe below is the 40 minute version. My parenthetical comments will tell you how to take it to about 15 (and i'm talking cooking time only, peeps. Prep time adds a little. But only a little.)
Prepare your taste buds to go into paroxysms of delight. Ladies and Genlemen: Love. In the form of Soup.
Ingredients:
4 corn tortillas (Or taco shells. I mean seriously. Old El Paso has done this for us)
3/4 lb skinless boneless chicken breasts (about 1 1/2 cups when cooked and shredded) (But! You may use pre-cooked chicken, of the boiled, baked, fried, grilled, frozen, or even canned variety. Yup. Canned. I use food storage cannery chicken and it's very yum. Grilled is also most nice.)
8 cups chicken broth (I got nothing to say here. It's broth. Not complicated.)
1 large yellow onion, chopped
3 cloves garlic, peeled and coarsely chopped (You can also use bottled. Garlic-press enthusiasts will not storm your house.)
1/2 cup fresh cilantro chopped (I love me my fresh cilantro. Do not mistake Italian parsley for cilantro. The effect will not be the same. Cilantro leaves are more finely scalloped on the edges. And I think broader.) (Also, kitchen shears do a great job chopping up herbs. Thought you'd like to know.)
2 Tbsp fresh lime juice (You can use bottled, but honey, Why? You're killing me, Smalls!)
1/4 tsp fresh ground pepper (Fresh. I mean it.)
1/4 tsp ground cumin (My friend pronounces this "coomin". That sounds silly to me. I say it's "cyoomin." What do you say?)
2 rounded Tbsp canned or fresh chopped jalepeño or anaheim chili pepper (Whatev. Just stick as much chili pepper in there as you want. It's delish.)
Method:
– Heat oven to 350 degrees F. Toast 4 tortillas for 10 minutes until crisp. (Alternatively, use 4 pre-cooked taco shells. Like, only if you're a serious masochist should you take the time to bake these.) Break cooked tortillas into pieces.
– Trim fat from chicken. In large pot over medium heat, combine the tortilla pieces, chicken, broth, onion, garlic, cilantro, lime juice, pepper, cyoomin, and jalepño pepper. Bring to a boil, reduce heat and simmer. (OR, you could use cooked chicken. Like when you have some leftover from that Costco whole roasted chicken you bought but didn't finish last night. Or the oven fried chicken from dinner Tuesday. Waaaay easier.)
– After 40 minutes remove chicken from pot; cool enough to handle then shred. Return chicken to pot and continue heating until piping hot. (If you are using pre-cooked chicken–which, have I mentioned, is way easier–just heat this bad boy until everything is nice and warm and done. Don't bother with the shredding. We'll assume you've already cut the chicken up.)
– Serve in bowls with toppings:
–broken tortilla chips
–chopped fresh cilantro
–chopped green onion
–cubed avocado (I stir fresh lime juice into mine to keep it nice and green.) (And we loves our avocado in Chicken Tortilla Elixir. It's our precious!)
–fresh lime wedges – squeeze juice into soup
–shredded Monterey Jack cheese
El Pictures: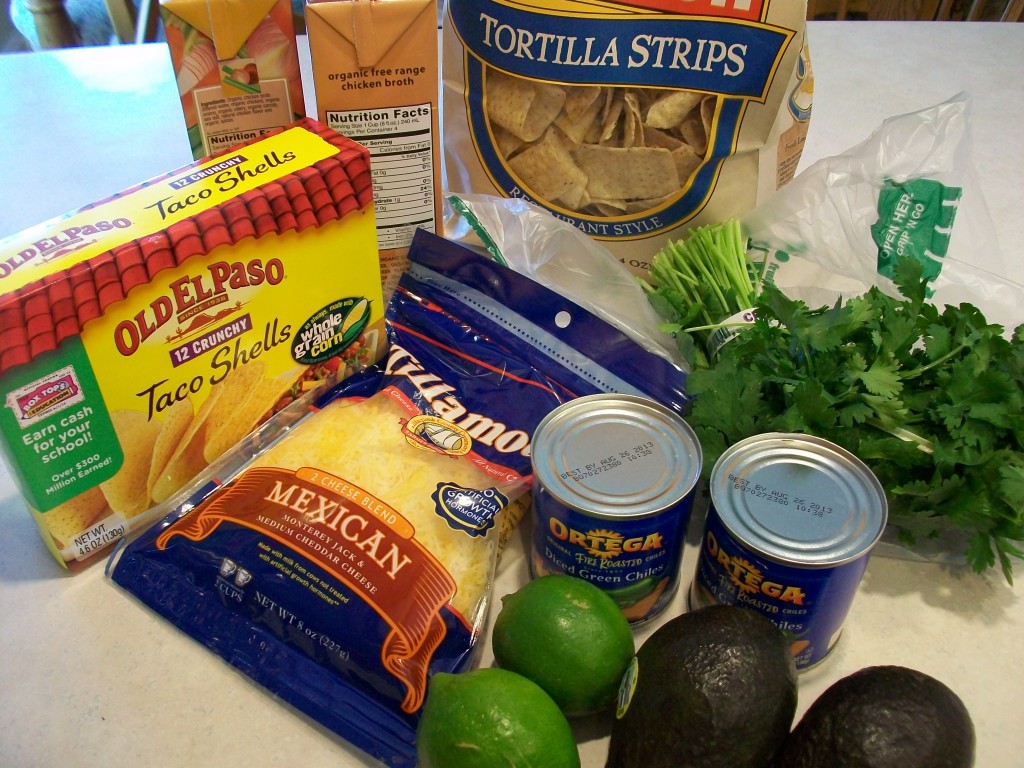 La Ingredientas. Look, people. I speak Spanish! I was born in El Paso! I lived in Albuquerque! I can say "Pásame la leche, por favor," okay? Which means I can get a glass of milk ANYWHERE Spanish is spoken. Because I. Speak. Spanish.
(There's no chicken in the picture. I'm not sure why. But it ended up in the soup. Promise. Er, Promesa.)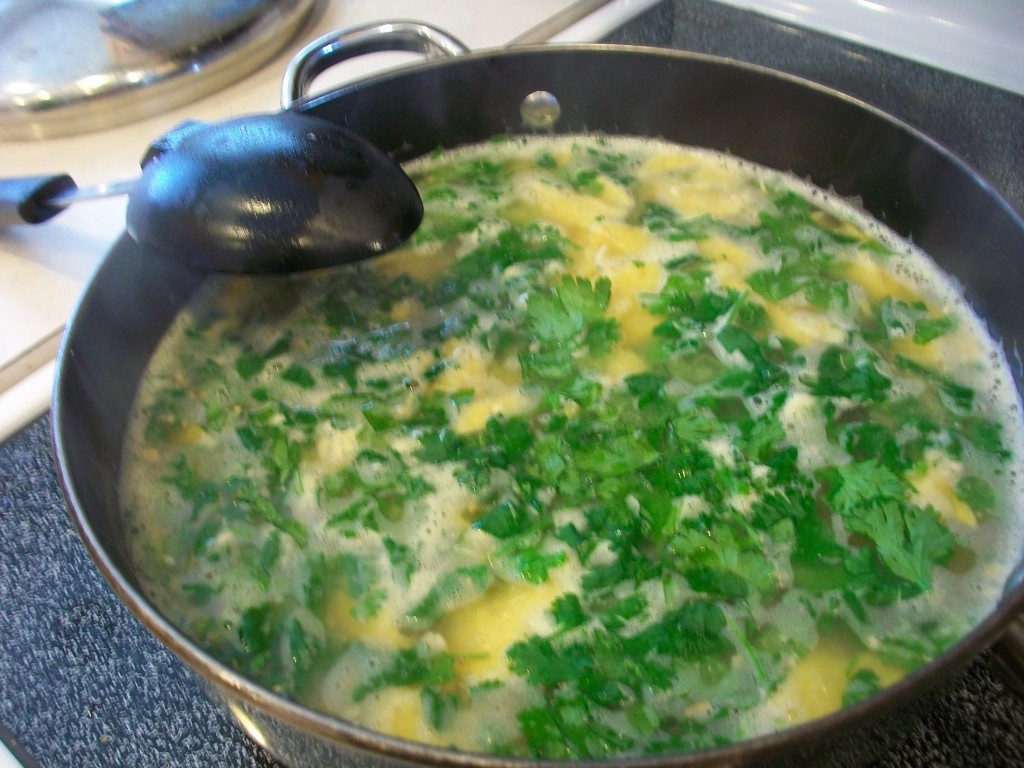 All the ingredienteros in the pot. Yep, it's blurry. I was in a hurry. Had to scurry.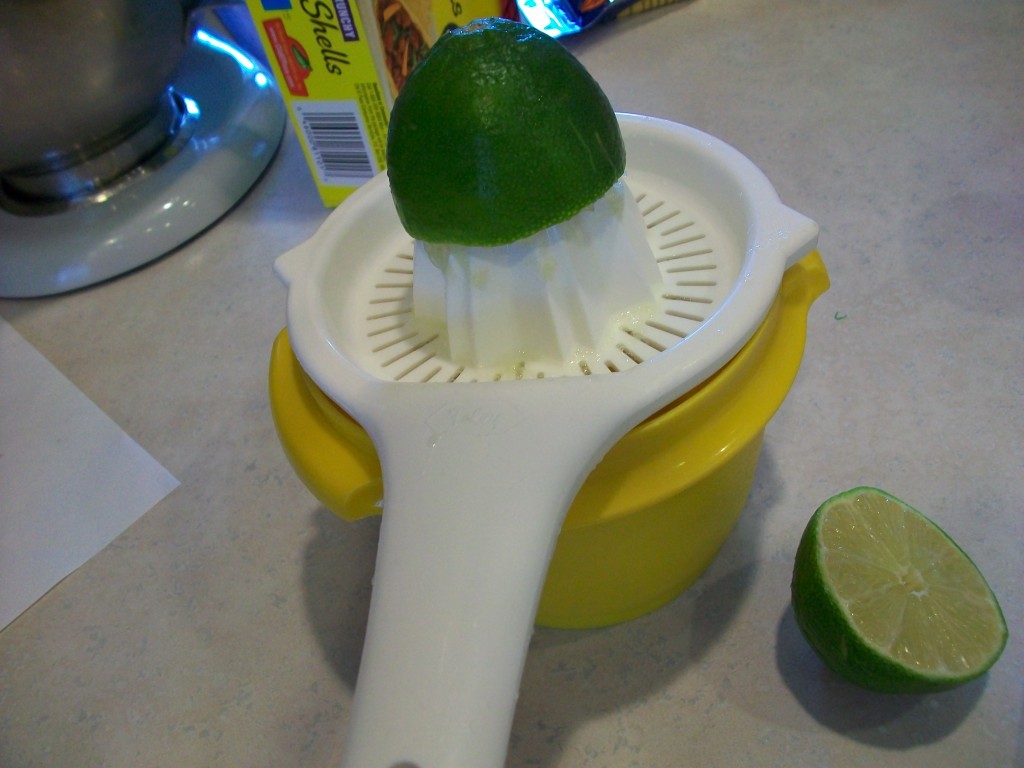 Fresh lime. The blessed juice of the gods. The refresco ultimate of Summer. That which makes our taste buds rise up and SING, people! Only use fresh. I will know if you don't.
Tada! El Niño de la Sopa! The Caballero of Comestibles! Muy delicioso.
I'm not even kidding.