Hello, my dears. Yes. We are eating again at my house. Can you believe it? It's gotten so busy around this joint that I've had to resort to the simplest of meals. And while I never used to consider Lasagna a simple meal–used to avoid it like the plague in fact, due to all that sloppy boiling and slippery handling and messy saucing–I have a recipe now that makes it so. You can whip this baby up in as few as 15 minutes. (Don't hold me to that. Recipe times printed in books NEVER match the amount of time it takes ME to cook the thing. Timing in cooking totally depends on your general cooking aptitude, your altitude and therefore boiling point, your general dorkitude when it comes to following directions, and whether or not you've got a positive attitude toward the recipe and cooking in general. Also Lunar Tides.)
The secret to this lovely lazy lasagna, dear readers, is in the noodles. And the bottled sauce. But it is DELICIOUS, I tell you! Else I would not cook and eat it with my family, upon whom I am forcing it! If you simply can't use bottled sauce–as I never used to be able to do. Nay, I verily did turn my nose up at the Prego-ed, Ragu-ed stuff. But it's gotten really quite decent nowadays–then go ahead and make your own. It will work fine. And we won't judge you.
The very biggest secret here–and you must MUST believe me and follow it–is that you don't really have to cook the noodles. No sirree, you don't. Cooking Lasagna noodles is a marketing scam. As is those "No Cook" Lasagna noodles you can buy. Psh. Regular noodles work fine, and believe me when I tell you "YOU DON'T HAVE TO PRE-BOIL THEM." I've made it this way for 18 years. I had a friend who made 14 Lasagnas this way for a church event, and they were perfect. In short TRUST ME ON THIS, MY PEOPLE. I LEAD YOU NOT ASTRAY. COOK NOT THE NOODLES.
So. On to the recipe. With plenty of notes in the margins.
Lazy Lasagna
Ingredients:
48 oz bottle Spaghetti Sauce, or 3-4 cups homemade (I'm not even kidding. Bottled works great. And I don't measure it. Just pour what I want into the thing. But if you're glued to your Great Aunt Pearlz recipe, by all means, use it.)
6-8 uncooked Lasagna noodles (Uncooked. UNCOOKED. I do not lie when I tell you this. Have faith, young cooking padawans.)
2 cups Ricotta or Cottage cheese (Cottage Cheese. I've never understood Ricotta. Can't pour it. Thick like cream cheese. Nope. I like me my little curds and whey.)
2 cups shredded Mozzarella cheese (Yum. I've also used fresh Mozzarella, and it's mighty fine. And you can make your own Mozzarella if you like. Click here. My friend Robin swears by this stuff. I will try it as soon as I'm no longer a headless chicken.)
1/4 cup grated Parmesan cheese (Love this stuff freshly grated. But I am a cheese snob. Or would be if I knew anything about cheese.)
1 cup shredded Monterey Jack cheese (See note above.)
Optional: ground beef, ground sausage, or ground Italian sausage, and fresh basil leaves (Okay people. These things are really not optional if you want this to taste really fabyoolanimous. It's fine without. Nice. Light. Simple. Boring. You want kaPOW? Add the sausage and fresh basil. Truuustttt meeeeee.)
Process:
-In 11 x 17-inch baking dish, spread 1 cup of sauce. Top with 3-4 uncooked Lasagna noodles. (I usually spread more than the 1 cup. Whatever covers the bottom of your pan with a thin coating.)
-Mix Ricotta with Jack cheese. Top noodles with half of Ricotta mixture. Then sprinkle on 1 cup Mozzarella and the Parmesan cheese. (Can add optional ingredients here.) (Are you kidding? MUST add optional ingredients here. So much better. Also, you can add to the amounts in the recipe without hurting anything. Just make sure your dry noodles have some sort of liquid or moisture covering them. Not soupy, just touching them.) Spread 1 cup sauce over all.
-Top with remaining uncooked noodles and sauce. (Can add more layers by increasing amounts of sauce and Ricotta.) ( I recommend this. In fact, I insist on this.)
-Cover with foil
-Bake at 375 degrees Fahrenheit for 1 hour. Top with remaining Mozzarella cheese. Let stand 5 minutes and serve. Can also return to oven for 5 minutes to brown the cheese. It's much nicer that way.
Pictures. Or as my children often say, Pichers: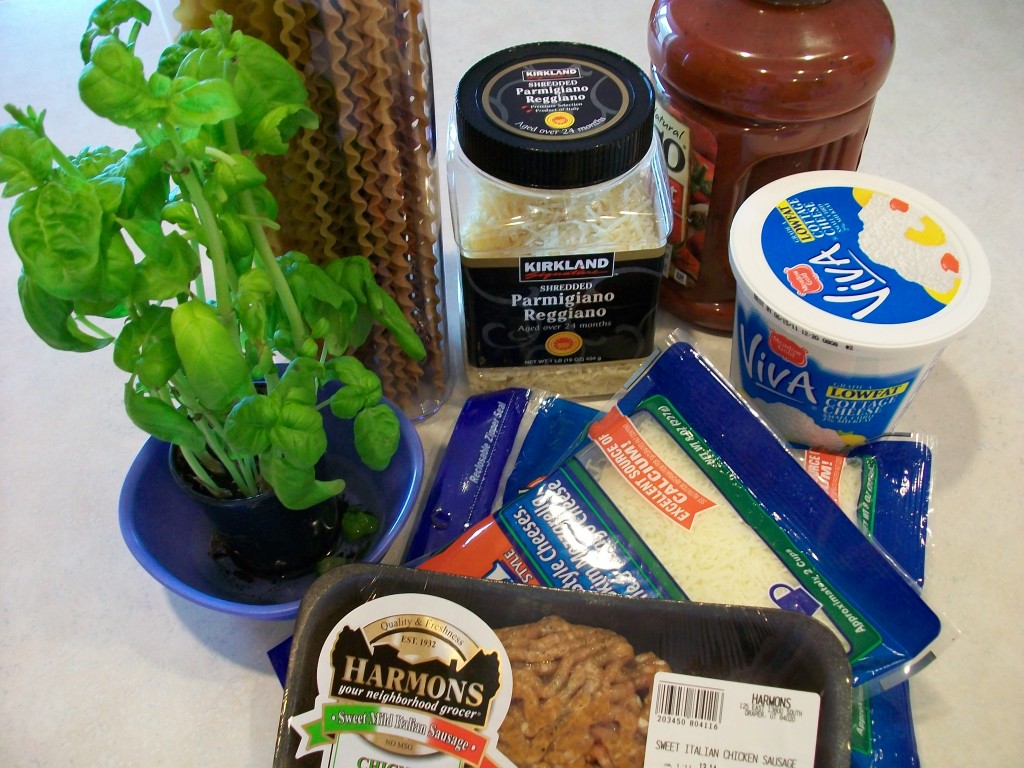 La Ingredientsa. Pretty sure that's Italian.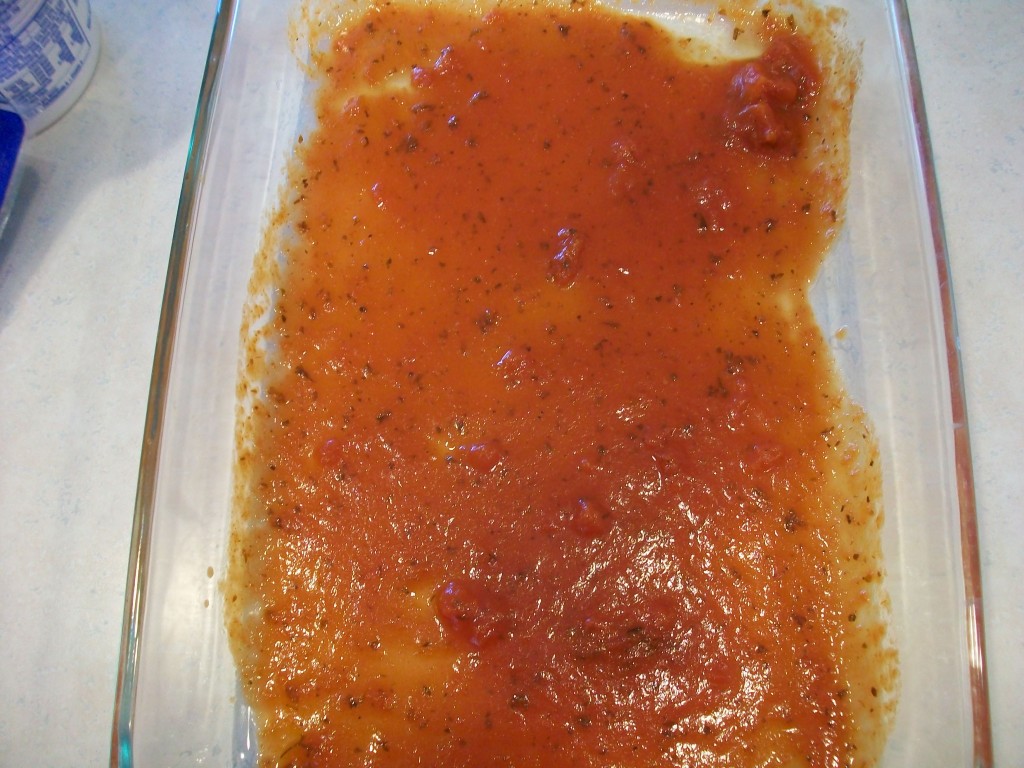 First layer: Sauce. Something to start the rehydrating process for the noodles. Use prepared sauce, or prepare your own. Or "borrow" some from your sister-in-law-who-makes-everything-from-scratch's pot when she's not looking.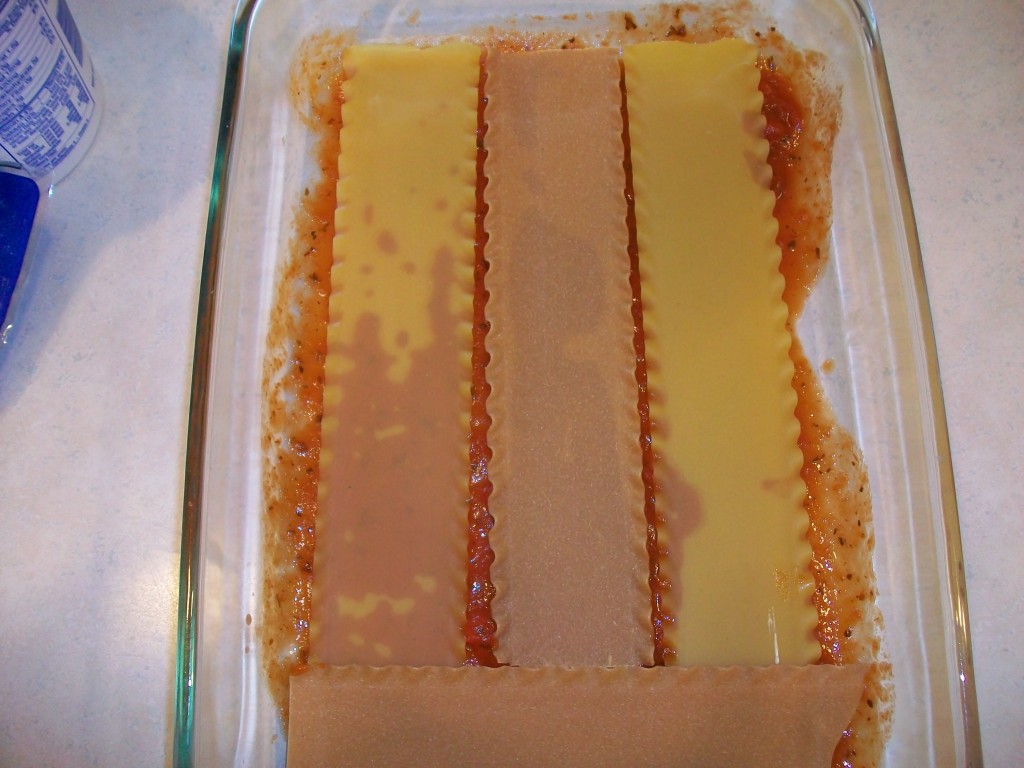 The Uncooked noodles of Uncooked-ness. I used both plain and whole wheat noodles here, because that's what I had.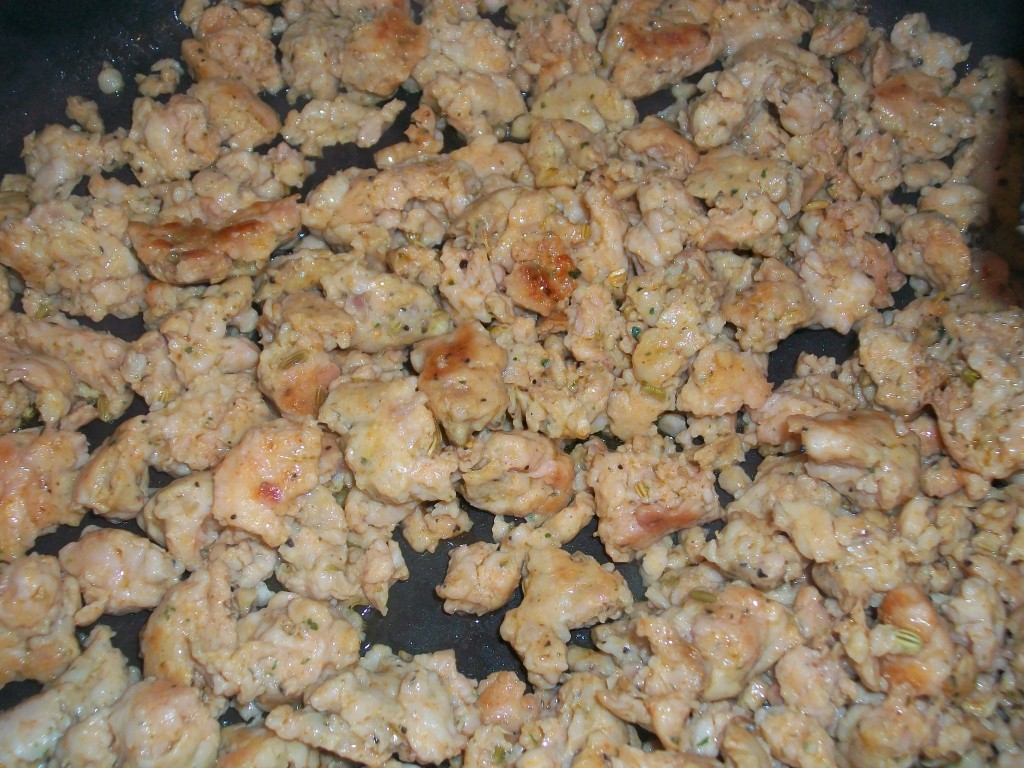 Took just a mo' to fry me up some Italian sausage. This is VERY flavorful. Truth be told, I prefer my basic Jimmy Dean Sausage. (And NO. Jimmy Dean did not send me any free sausage to say that.)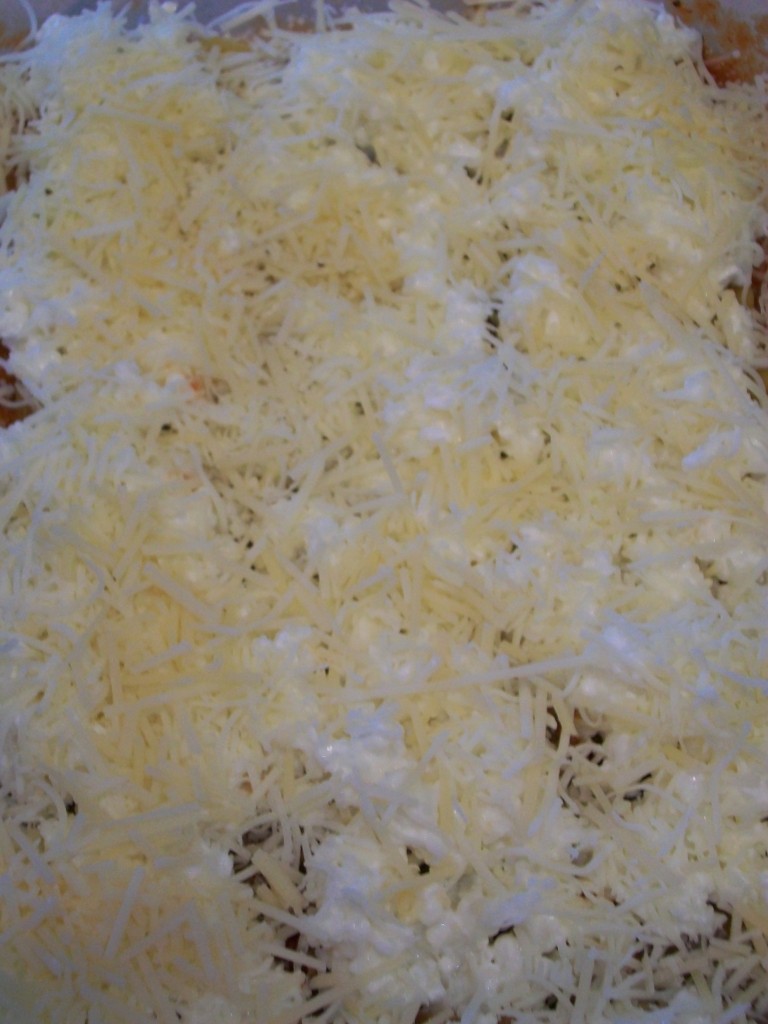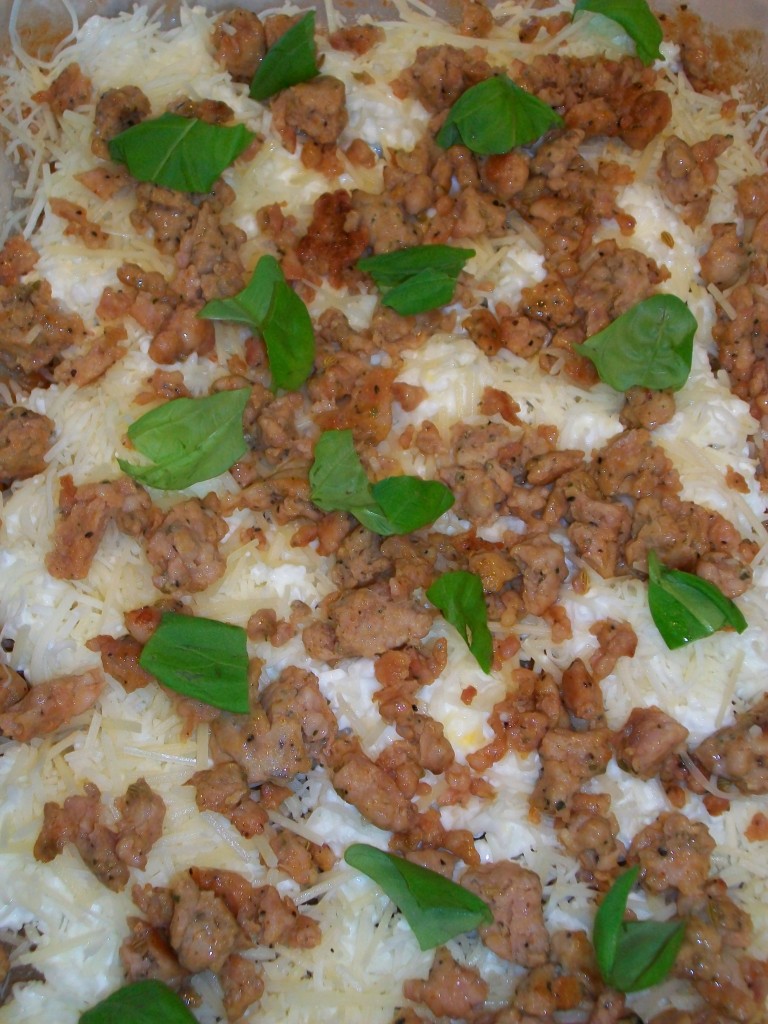 . . . followed by Optional Ingredients of Fabyoolosity. Love fresh Basil. Yuu-uuum.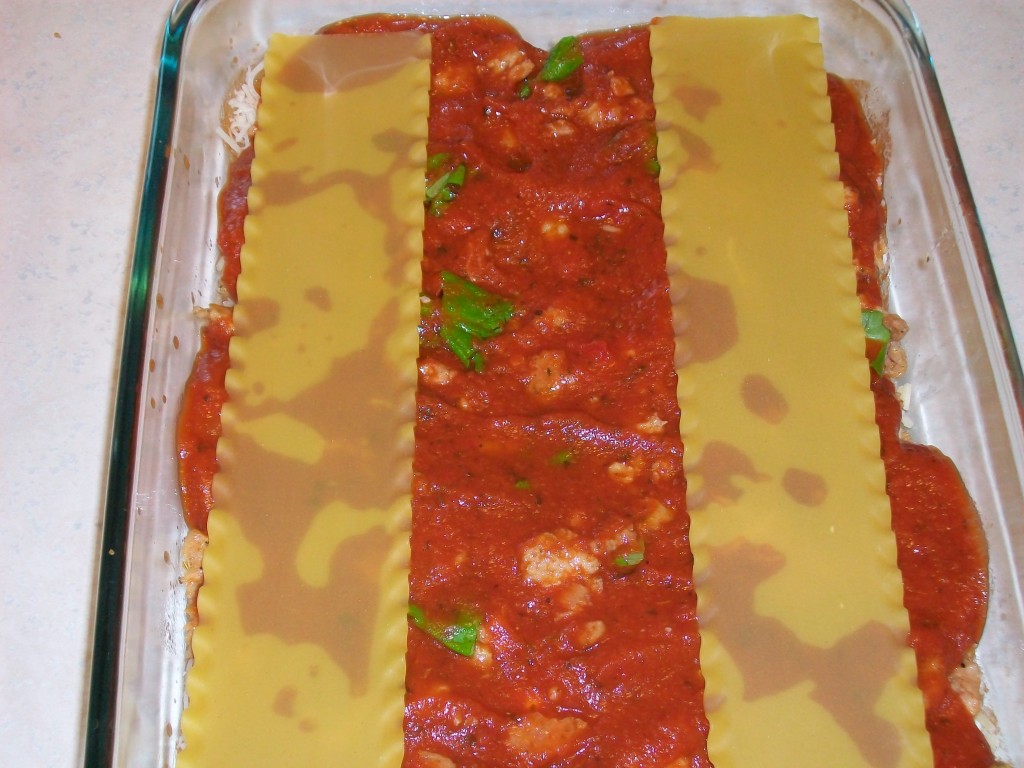 Second layer of dry noodles going on top of the first. No one is complaining. Perfect harmony.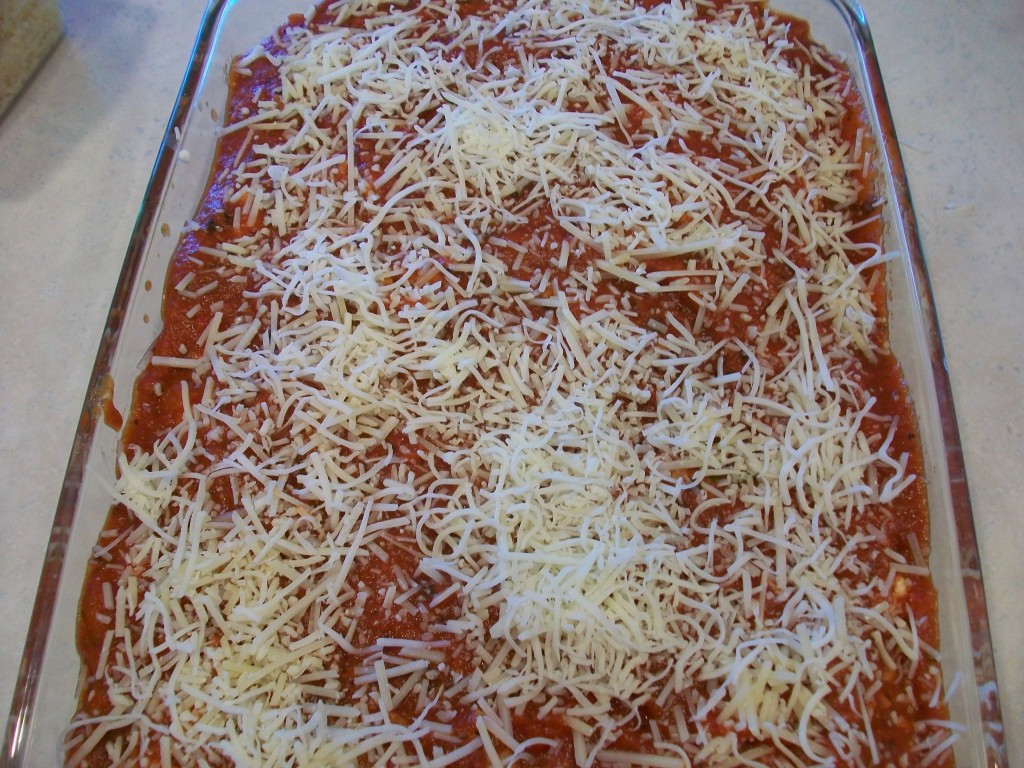 Final sprinkling of cheese. Honestly, I could have put a third casserole layer on. Probably should have as it turned out a little moist and decadent. But that's the way, uh huh – uh huh, I like it, uh huh – uh huh. (If you remember that song, you're really old. I don't remember it.)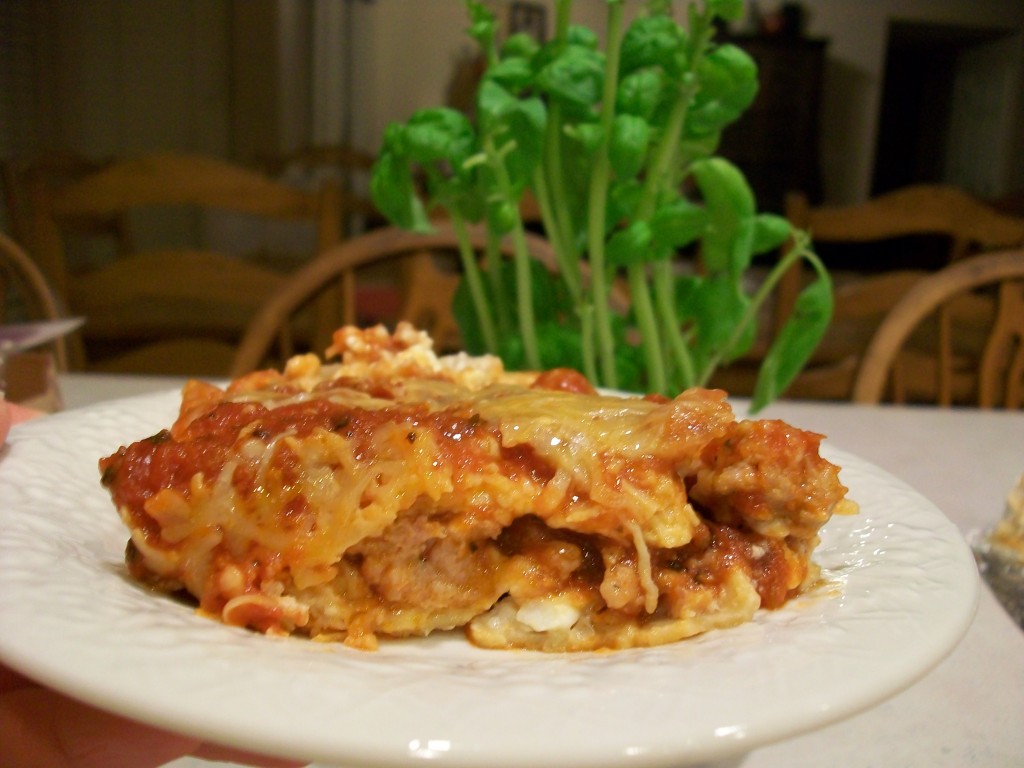 Thar she blows. Two layers of beautiful and completely DONE Lasagna. Did I mention there could have been three? Nevertheless, mighty mighty nummsters.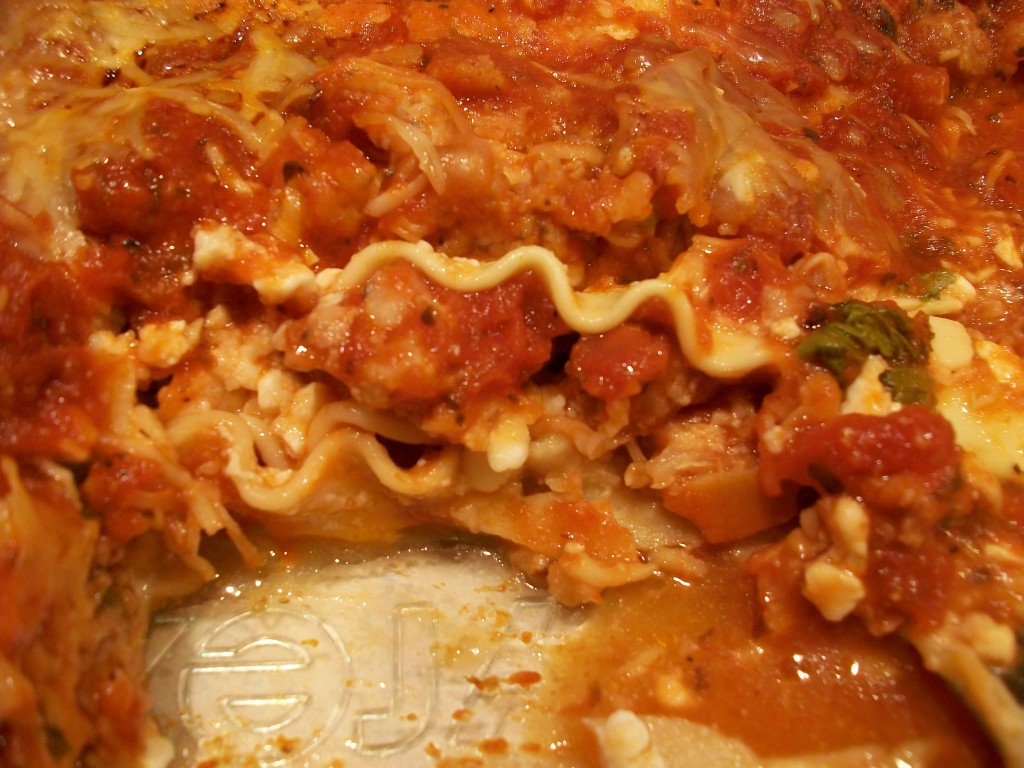 See? Cooked Noodles of Cooked-ness. Again, I added a lot of sauce. You don't have to go this crazy. Or you can. Just add another layer of noodles. Do what you want with this, my dears. It's totally flexible. And easy. And can be made ahead of time and refrigerated, then popped in the oven. Add like 5 extra minutes.
There you go! Your aunty-Janiel saving you all kinds of slaving over a hot stove. No need to. This is Lazy-pants Lasagna, giving you time to do the things that are important. Like trolling the internet for pictures of Chris Hemsworth's chest. I DID NOT JUST SAY THAT!