You guys. You GUYS! So, one day I had some blueberries on hand. And some salmon. And some grapefruit. And some chilies. And some pineapple. And some limes.
I searchified the internet, and found this lovely thing. It sounds weird. It sounds random. But it is a little piece of salmon-y, blueberry-y heaven. And it is mighty good for you with all that fruit. You can ignore the calories the brown sugar adds. The fruit cancels them out. Trust me. I know these things
So here we go. Delve deeply, my friends. Delve deeply into the life enhancing properties of the magnanimous BLUEBERRY! (BTW, I tripled this. Worked marvelously)
Ingredients:
1 cup blueberries (You could use frozen. I prefer fresh. Just because.)
2 (6-8 ounce) salmon filets (If you want to sound cultured, make sure you shorten the "e" and pronounce the "t" in "filets," as the English do. Salmon fillitts. Feels like I'm in London already.)
1/2 grapefruit (Do whatever you want with the other half. Go to town, honey.)
1/2 cup crushed pineapple
2 limes
Fresh ground black pepper
1/2-1 tsp chili powder
1 small anaheim chili (I kept buying these, and they kept rotting before I made this. So I finally used canned mild green chilies. It worked fine. Fresh is nicer.)
2 Tbsp butter
1/2 to 3/4 cup brown sugar
Process:
–Generously butter a glass baking dish and spread pineapple in the bottom (Much as I love butter, I sprayed the dish with cooking spray and no one got offended)
–Sprinkle liberally with fresh ground black pepper (Not conservatively. Liberally. And you thought I didn't get political on this blog)
–Slice the chili into thin rings and arrange over pineapple (Or open the can because your chilies rotted. Drain and throw all over the pineapple like you're Jackson Pollock)
–Squeeze juice of two limes over chili slices, then lay salmon fillitts on top
–Cut grapefruit in half and section them (just like you would for breakfast). Arrange chunks over salmon.
–Top with blueberries, load with sugar, sprinkle with chili powder
–Bake at 425 degrees for about 20-30 minutes, or until bubbly, and salmon is opaque (tripling the recipe made this bake longer. More like 40 minutes. Just check it)
Serves 2. Can be tripled. I know. I've done it.
Ya want photos? Ya got photos. Or you can skip to the next post for the printable version of this recipe, and deny yourself the pleasure of my über fantastico picture-taking skills. No? Good. Here they are: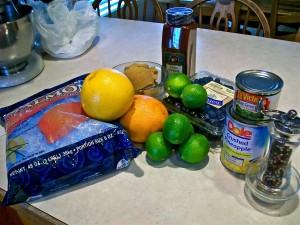 Okay, folks. This is all it takes to bake the Salmon of LIfe. Look how pretty the limes are. Wonderful color.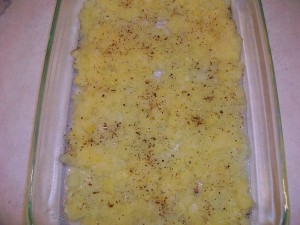 Pineapple with serious ground black pepper generosity. Love that stuff. I can just grind, and grind, and grind . . .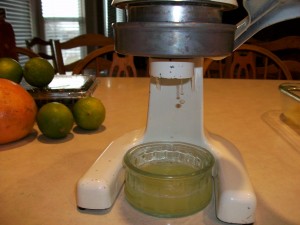 Squeezing the living JUICE out of the limes. Look at that coolio live action shot. See the little drips? This picture should be a poster hanging on the wall in your kitchen.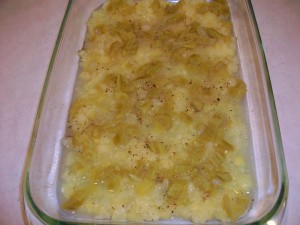 Canned-green-chilies-that-should-be-fresh-but-are-pretty-good-canned.
The beauty of the Grapfruit. Grapefruit are pretty too. (Grapfruit?) Look at that color. Look at those succulent jellybeans-of-juice waiting to burst into your mouth. This was a mighty fine grapfruit. It would have been even better as a grapefruit.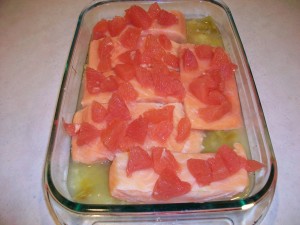 Arranging a still-life for Connor Walton to paint.
Can Connor handle even more detail? We'll find out, as I add the Blueberries of Bodacity.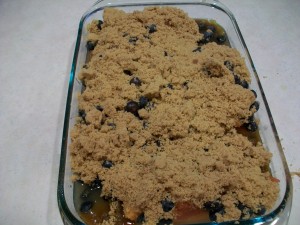 Whoa. Woah, I say. That's a lot o' sugar! It was very delish. But I might try cutting back a smidge next time, due to the richness factor. (Cook's Note: And now years later I figured out what's wrong with this picture. That ain't no 1/2 to 3/4 cup of brown sugar on top of there. That's more like a cup and a half, or two. I inexplicably doubled the sugar. Wha? Must have been distracted. Don't do that. I mean, it was good and stuff, but sweet Mary Francis on buttered toast! I slept on the ceiling for two nights afterward. I recommend the recommended amount. That is all.)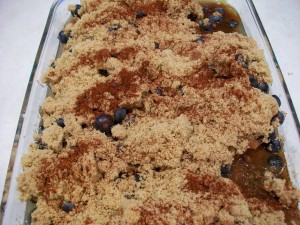 Chili Powder. Adds that je ne sais quois. Except, I DO sais quois. It's Chili Powder.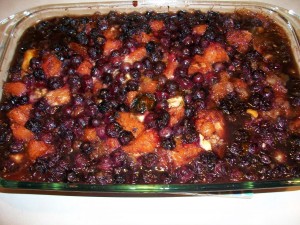 Voilá, the sweet serenity of the doneness of my Blueberry, Pineapple, Lime, Grapefruit, Chili Salmon. I'm having leftovers for lunch.
You should make this. Tonight. Go shopping. Now. And pick up some $7 shoes while you're out.